After a period of us, industrial ovens in food factories will gradually become less efficient and start smelly. The cause is due to layers of grease, food particles deposited or falling into the gaps that cannot be obtained, directly affecting the finished product.


Some industrial oven cleaning solutions are applied, such as sandblasting or using cleaning chemicals, which often take a lot of time and manpower.


To solve this difficulty, Specco2 recommends that you can use dry ice blaster as an effective alternative to clean industrial ovens.


Read more: What is Dry Ice Blasting Machine ?


Problem that industrial oven has to face

In food manufacturing plants, the problems that industrial ovens often encounter after a long time of use include:

Appears traces of grease in patches on the surface of industrial ovens.
The electronic circuit boards that control the operation of industrial ovens are covered with stains, making it more difficult to use.
Is traditional ways to clean industrial oven still works ?


To clean industrial ovens, conventional factories will use cleaning chemicals with moderate to strong detergent (depending on the stubbornness of the stain) and pressure washer cleaning solutions. other like sandblasting,..


However, these common cleaning methods will often face different problems, making cleaning industrial ovens more difficult. These problems included:


It takes time to disassemble the individual parts together to clean the food particles
Using a lot of workers to disassemble parts and details
When using other methods of pressure washing will leave secondary waste. You will have to spend more time getting rid of these secondary wastes
The use of cleaning chemicals will affect the safety of the product as well as the life of the machine. More specifically, this method can be dangerous to the safety of workers
A specific example is at a bakery in Texas (USA) that had to send a team of 25 people just to clean the oven, the conveyor system in the bread cooler, and had to transport some large products to another area for storage and packaging.


Not only was it difficult to clean the oven and refrigerator, but this factory also had problems maintaining the production line as well as cleaning other industrial equipment. This cleaning cost them at least two hours using fabric wrap to keep details like circuit boards untouched.


Not stopping there, traditional cleaning methods are not effective enough to clean all the residues on the cooler, fermentation cabinet, mesh frame, ..


To clean industrial ovens effectively, some businesses started to switch to using best dry ice blasting machines. This is a technique to clean the surface of machine of food industry equipment by using CO2 dry ice in recycled form at supersonic speed.


Cleaning industrial ovens with dry ice blaster


How dry ice blasting work


Kinetic energy


It happens when compressed air pushes dry ice pellets onto the top layer of dirt, paint or residue. Here, in comparison to sand, grit, or other abrasives, solid carbon dioxide's kinetic effect on the surface is minimal.


Micro-Thermal energy


At 109°F creates a shock on the surface, leading to a crack on it. Heat through these cracks gets in contact with dry ice that is subliming already, letting the pellets absorb maximum heat. This thermal difference gets rid of dirt from the surface.


Sublimation energy


The heat causes the solid carbon dioxide to expand and become a gas. Dry ice has the ability to expand up to 800 times in a matter of milliseconds. As the gas expands, it causes more cracks in the dirt, causing it to fall off.
Benefits of using a dry ice blaster when cleaning industrial ovens


The industrial oven will not be damaged and corroded


Dry ice is a material that can clean most surfaces without damaging them. It is between 1.5 – 2 on the Mohs Hardness Scale. Dry ice can clean sensitive surfaces, such as electronics circuit boards and plastic molds, without causing damage to the surface of the machinery.
This prolongs the life of the equipment and reduces the risk of damage to the industrial oven during cleaning. If you compare laser cleaning with dry ice blasting machine, dry ice blasting machine has proven its advantages


Leave no secondary waste


Usually when cleaning with water, chemicals, sand… these cleaning processes will leave secondary waste and dirt on the floor or around the industrial oven. With the dry ice blaster cleaning process, the dry ice sublimes immediately upon impact with the surface of the industrial oven and blows away dirt with ease. No secondary waste is created between dirt, grease… and dry ice.


The process of handling after cleaning will become a lot easier. You only need to clean the surface with dry ice and no further steps are needed after cleaning.


Save time
Cleaning industrial ovens with dry ice will help you use no chemicals and do not create any secondary waste. This allows the industrial oven to be cleaned in situ without time-consuming disassembly and reassembly. Dry ice blasting is used to remove the contaminants from the industrial ovens mentioned above, such as grease, dirt, and grime. Even cleaning can take place even when the production line is still running.


This helps the manufacturing process minimize downtime and operate more productively and efficiently. This machines also used for cleaning wood of old construction


Extremely clean and environmentally friendly
In addition to being clean and safe, it's also important that dry ice is a sustainable material, made from recycled CO₂. It does not produce CO₂ or add CO₂ to the atmosphere and therefore does not cause the greenhouse effect. Dry ice cleaning is completely environmentally friendly and highly effective. Even dry ice making machine don't harm the environment
Beside that, dry ice is also preferred for use in cleaning industrial ovens and cleaning other machines and equipment in the field of food production because it is allowed by EPA, USDA and FDA.


How to clean industrial oven with dry ice blaster


Cleaning the oven with dry ice is a relatively new service on the Vietnamese market, but the efficiency is extremely optimal. This procedure can clean all surfaces of the device (yes every nooks and crannies), in just two easy steps:


Setup compress air source for dry ice blaster
Fill the dry ice blaster with enough dry ice into the hopper and blow over the engine parts and the surface that needs cleaning, including hard-to-reach surfaces.
Dry ice is accelerated by compressed air, through specially designed nozzles at supersonic speed, hitting the surface of the device. Dispels stubborn plaque and dirt on engine surfaces without leaving any secondary waste behind.


Dry ice is blown out with a blowing pressure of 20-300 PSI at a very low temperature (about -70 degrees C) so it can harden dirt and grease; easily knock them out. You can rest assured that during the process, the surfaces will not be damaged. You can have a look of our Icetech series dry ice blaster
Noted: you need to know how to transport dry ice to keep the their quality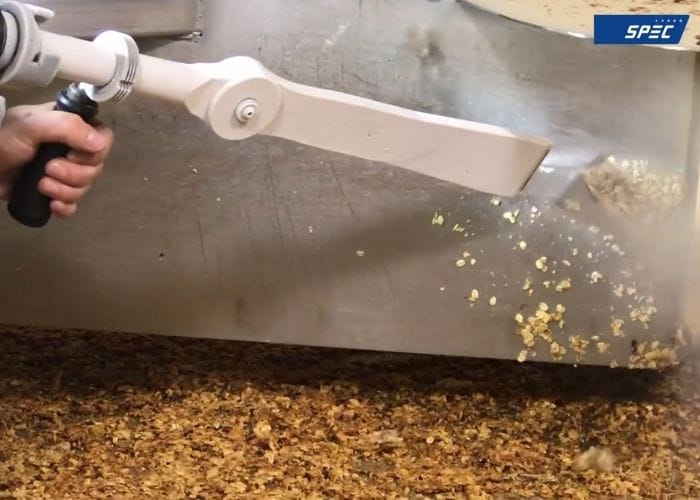 Dry ice blasters model for cleaning industrial oven


I3 MicroClean 2


SPECCo2 I3 MicroClean 2 is an upgraded successor from its predecessor – the I3 MicroClean with the following benefits:


Uses dry ice cubes or ice cubes and can operate at speeds as low as 12 cfm (0.3 m³/min) at variable air pressures from 20 to 145 psi (1.4 – 10 bar) .
The i³ MicroClean 2 offers an intuitive display with a 7-inch LCD screen and digital controls.
Super efficient: i3 MicroClean 2 is designed to reduce overall consumptive usage by more than 25% compared to i3 MicroClean.
Using less air pressure, it also produces less noise.
IoT Capabilities: Remote Monitoring with SPECCo2 CONNECT.
Absolute cleaning ability: Deep clean on all-terrain surfaces.


Aero2 PLT 60


SPECCo2 Aero2 PLT 60 is suitable for applications that require more robustness. This is one of the most efficient dry ice machines available on the market.


The machine includes a SureFlow feeding system that not only helps users to minimize air pressure loss but also maximizes air supply capacity and limits dry ice waste. In addition, the 7" LCD screen provides an intuitive display that allows the user to easily view, program or adjust the dry ice parameters as well as the machine settings. Such as adjusting the burst pressure and feed speed parameters.


PLT 60 is IoT enabled through SPECCo2's 4.0 technology solution, SPECCo2 CONNECT®. The system provides remote monitoring and diagnostic capabilities.


Aero2 PCS 60


Aero2 PCS 60 is designed to give users full control using SPECCo2's patented Particle Control System (PCS), which allows users to customize dry ice firing parameters. Besides, dry ice will also be cut into diamond-shaped particles according to the size selected by the operator (from 0.3mm to 3mm).


Some advantages of the PCS 60 series:


Performance changes industry. The blast stream is consistent and pulse-free.
Intuitive display, easy to view and control burst parameters on 7" LCD screen.
Full control provides a level of precision and flexibility even at a distance.
Applications (burst pressure, particle size, feed rate) programmable; ensure the most efficient use of materials and prevent errors during operation.
The machine is ergonomically designed. Optimizing and combining materials, reducing weight and size together with redesigned bellows provides greater flexibility and durability.
Reduces noise and cleans effectively at lower blowing air pressure.
IoT capabilities for remote monitoring and diagnostics with the industry-first SPECCo2 CONNECT.


Conclusion


Cleaning the oven will no longer be a nightmare when you use a CO2 dry ice blaster. It's fast, environmentally friendly, and reduces downtime significantly – an important factor if you need to produce large quantities every day.


Therefore, if you have a need to use a dry ice machine for industrial cleaning purposes, the Specco2 team is always ready to support 24/7 consultation.