A dry ice blasting machine is one of the best cleaning methods out there. This cleaning device can primarily be used for industrial cleaning purposes and also for a wide range of applications, which includes cleaning the wood too! Join the Specco2 team to learn more about the great uses of this machine in cleaning applications made from wood in the article below.


Problems


Wood is one of the most commonly used materials in all aspects of life. In the process of living and using, historical structures or houses built from wood often face many problems arising from the influence of weather and the surrounding environment. Layers of dirt can stick to the surface and accumulate over the years because, you know, things that are made from wood often take a long time to clean and we rarely clean them on a regular basis.


Besides these works, there are also wood factories that also need cleaning services due to hundreds of tons of wood are stacked in warehouses. Small wood crumbles fall everywhere combined with dust covering the boards and logs, making them appear dull and no longer beautiful in the eyes of customers. In a bad situation when the factor is on fire, the smoke and fire that adheres to the surface will add unpleasant odors to the wood and cover it with a black outer layer due to scorching.


In the above cases, it is extremely difficult to clean wooden materials and structures by manual cleaning. The reason is that the surface that needs cleaning is extremely large and will require a lot of workforce although it may seem impossible to clean all the stains and the black layer caused by scorching. We also cannot use water or chemical agents because they will cause the wood to rot and reduce its life quickly.


Solutions


Now, to restore buildings as well as renovate wooden materials, factories, businesses and customers have chosen the most optimal solution on the market which is the dry ice blasting machine. So what is dry ice blasting machine ?This cleaning device is designed with cutting-edge technology that allows it to operate at optimum efficiency and deliver the best quality. Some of the advantages of the machine can be mentioned as:


Reduce significantly cleaning time and labor costs
Restoring wooden structures to their original condition
Improve the appearance of wooden materials, even if there are scorch marks
No harmful chemicals are used, increasing the safety of employees and workers
Dry cleaning and moisture-free; eliminates the appearance of termites and molds
Non-abrasive which helps big time in maintaining the quality of the material; minimizes the possibility of scratches
Excellent cleaning as no secondary waste is left behind; super friendly to the environment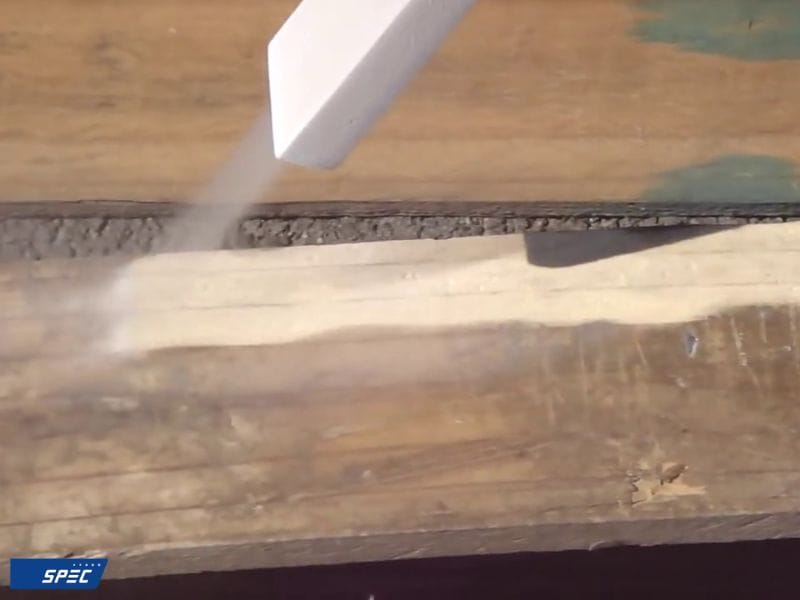 Dry ice blasting machines have various types of nozzles that come in different sizes to serve the cleaning purpose of the users. The machine is operated by blasting dry ice at supersonic speed and colliding with the surface that needs cleaning. The combination of kinetic and thermodynamics will break the bond between the debris and the surface of the device, removing stains in just one use. At this time, the dry ice will sublimate immediately, turn from solid to gas then evaporate. There will be no secondary waste left behind.
You might also need a dry ice making machine to ensure the quality of your work.


This machine also used to clean in food industry
Dry ice blasting machines for wood cleaning


The Aero 2 Series


Following the birth of the Aero series is the Aero2 series – this is the most efficient dry ice blaster available on the market; giving you full control, even when you're not on site.


Aero2 PLT 60


Built on ground-breaking Aero2 technology, the PLT 60 is designed for applications that require more robustness, making it the most efficient dry ice machine available. This machine is enabled through SPECCo2's 4.0 technology solution, SPECCo2 CONNECT which provides remote monitoring and diagnostic capabilities.


With the SureFlow feeding system, it not only helps users to minimize air pressure loss but also maximizes air supply capacity and limits dry ice waste. In addition, the Aero2 PLT 60 features a 7" LCD display with digital controls, providing an intuitive display that allows the user to easily view, program or adjust the firing parameters. dry as well as install the machine. Such as setting and saving burst pressure and feed speed parameters.


Aero2 PCS 60


The Aero2 PCS 60 is designed to give users full control using SPECCo2's patented Particle Control System (PCS), which allows users to customize dry ice firing parameters. Besides, the dry ice will also be cut into diamond-shaped particles to the exact size selected by the operator (from 0.3mm to 3mm).


Some advantages of the PCS 60 series:


Performance changes industry: The blast stream is consistent and pulse-free.
Intuitive screen: Easily view and control blasting parameters and machine settings on the 7" color LCD display.
Full control provides a level of precision and flexibility even at a distance..
Programmable applications: The user can set and save application formulations (burst pressure, particle size, feed rate), thereby ensuring the most efficient use of materials and preventing errors during operation.
Ergonomics: The machine is designed to optimize and combine materials, reducing weight and size with redesigned bellows for greater flexibility and durability.
Lower noise level and effective cleaning at lower blowing air pressure.
IoT capabilities for remote monitoring and diagnostics with the industry's first SPECCo2 CONNECT.


PCS 60 is IoT enabled through SPECCo2's 4.0 technology solution, SPECCo2 CONNECT. The system provides remote monitoring and diagnostic capabilities.


Besides that, you can have a look of our Icetech series dry ice blaster
Conclusion


Wood cleaning with a dry ice blasting machine is an ideal choice because of its magnificent cleaning ability; bringing high efficiency for factories as well as satisfying results for users. This device helps restore the wood to its original condition even if it is scorched, without scratching the surface of the device.


Specco2 is the official distributor of SPECCo2 in Vietnam, specializing in distributing dry ice machines and producing dry ice. If your business needs consulting, please contact Specco2 for 24/7 support.