In the food manufacturing, processing, and packaging industries, the accumulation of grease, bacteria, carbon deposits, and other impurities on machines and equipment after a long period of operation is inevitable. These kinds of debris will make your businesses spend a lot of time and money to clean and maintain by using traditional methods such as pressure washing with sand or using water and detergent.


To solve the problem, Specco2 highly recommends you an alternative, which is dry ice blaster. There are a lot of perks when it comes to using this wonderful technology. Let's find out more about how dry ice blasting in food industry work in this article.
Read more: What is dry ice blasting ?


Cleaning food processing equipment


A bread manufacturing and processing factory used a dry ice blaster to clean dough, flour, and grease residue from various surfaces such as metal or plastic. Before, this business had used conventional cleaning methods such as water and chemical detergents. However, these methods are often time-consuming and labor-intensive to complete. They even had to send their machines to an outside unit for cleaning, which costs the business more.


Therefore, in order to save cost, time, and labor, this business used a dry ice blaster to clean machinery and equipment instead. This solution has shown an immediate effect.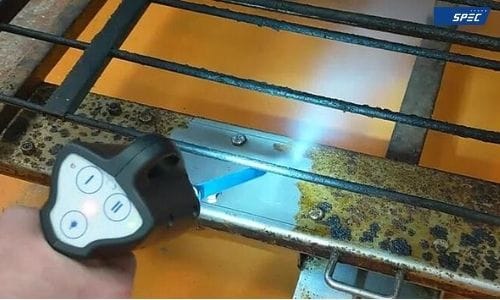 Cleaning the conveyor system in the food production line


Not only can it clean the material's surface, the best dry ice blaster is also effective in maintaining the production line and conveyor system of the factory. A dry food production unit in Vietnam has applied a dry ice blaster to clean its production line system.


Previously, this unit only used water to clean its production system, but it was not really effective. After that, they switched to a dry ice blasting machine and it worked miracles. The surfaces were spotless, there was no secondary waste and problems had been solved in the best way ever.
If you compare dry ice blasting and laser cleaning, dry ice blasting has proven with more advantage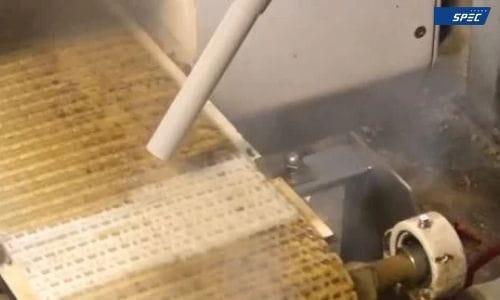 Clean filters and sensors in food production machines


A snack maker in Dong Nai used a dry ice blaster to clean leftover residue, oils, and spices from the food maker's filters and sensors. The great advantage of the dry ice cleaning machine is that it does not cause abrasion to machinery and equipment. With the SPECCo2 I3 MicroClean 2 dry ice blaster, you can clean the device's sensors or sensitive electronic circuit boards without fear of damaging them.


Besides, a food factory may have nearly over a hundred filters that are going to take a couple of hours before things' done but it won't be the same with the dry ice blaster. This will save businesses plenty of time all the while maintaining factory production capacity.
You might also need a dry ice making machine to produce dry ice to be more aggressive in your job


Clean food contact surfaces


To clean all the residue or any debris left on the food contact surface, a cheese factory has used a dry ice blaster. This method has saved the factory plenty of time by reducing cleaning time as well as conveyor and production downtime. Allowing the machine to stay up running and continue its job, maintaining operational productivity.


Thus, the dry ice blaster also blows away all dirt and harmful bacteria.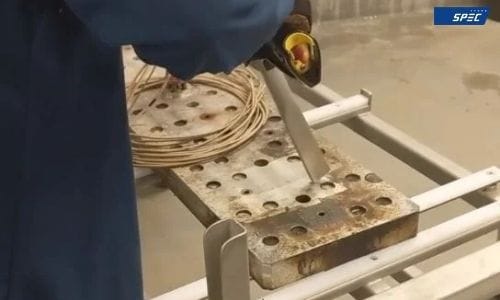 Clean the filling and packaging equipment


In addition to the ability to clean the surface of food production machinery, the dry ice blaster machine can also completely clean the packaging system in processing plants. A food production facility in Binh Duong used Aero2 PCS 60 dry ice blasting machine for cleaning and maintaining its packaging line. The equipment can also sanitize locations that were previously inaccessible to conventional cleaning methods.
After cleaning, they tested and confirm that no residue was left on the surface of the packaging system.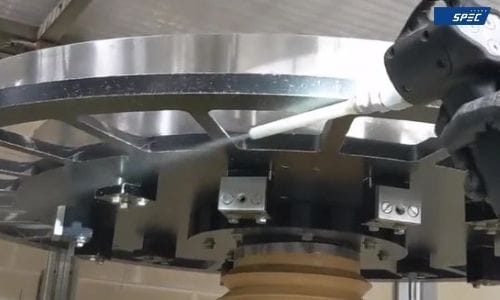 Cleaning industrial ovens and mixers


Dry ice blaster can also be applied to clean industrial ovens, mixers, and machines related to food manufacturing. A company specializing in the production of tortillas in the United States used a dry ice blaster to clean carbon deposits, grease, pastes and other contaminating waste from mixers, ovens, and other processing equipment. Previously, this company used water to clean the oven, but it took a lot of effort, cost, time, and human resources.
As soon as they switched to CO2 dry ice cleaning, the time to clean machinery and equipment was significantly reduced by up to 80%! Thus, no more toxic chemicals can affect the production process as well as protect the workers' health from direct contact with any of those.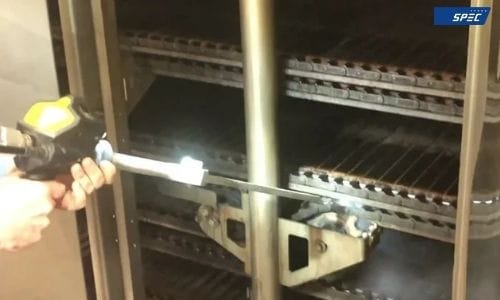 Sanitize the elevators in the food factory


In food factories, the belt conveyor makes it easier to deliver products from one place to another. During operation, it is inevitable that food residues will remain or even be stuck hard on this unit. The dry ice blaster can save time on cleaning the surface of the escalator even when it's online and doesn't require downtime for cleaning at all.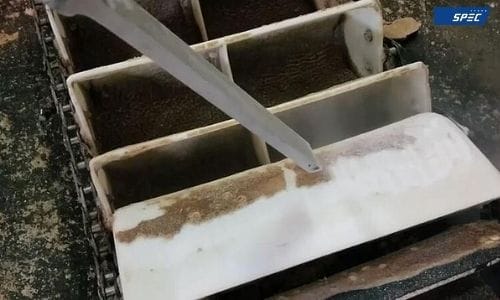 Sanitize nut processing equipment


An almond nut facility in the United States used a dry ice blaster to clean almond dust, oil, and contaminant residues from the surfaces of processing equipment. The dry ice blaster CO2 dry ice machine can clean the production system even while the system is in operation online. This helps the almond nut production facility to save time on cleaning and maintain production capacity at high speeds.


In addition, cleaning of residues and other allergens from the production system helps to keep grain production free from cross-contamination, making the final products safe.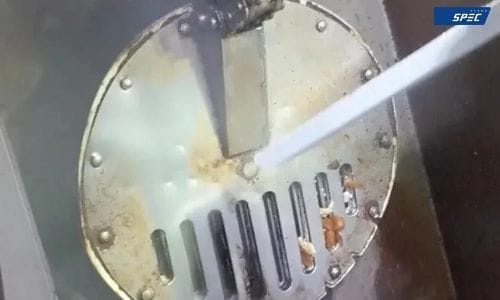 Cleaning the motor and toothed wheel of the food production line


Not only stopping at cleaning food contact surfaces but the dry ice blasting machine can also be used for the entire motor and toothed wheel of the food production line. During the production process, it is inevitable that the motors and toothed wheel will become entangled with deposits and dust. Over time, it will cause the machine to operate unstably.


An international corporation specializing in food production has used a dry ice blasting machine because this method meets TPM standards to clean the above details. Leaving implement rapidly cleaned and totally pristine.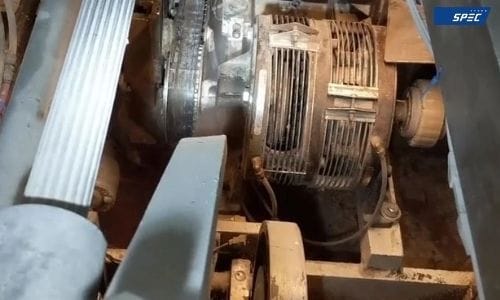 General facility cleaning


In addition to cleaning machinery and equipment, the dry ice blaster can also be applied to clean the factory. A sandwich factory used a dry ice blasting machine to sanitize its entire food factory.


In the past, this unit used water and other chemical degreasers for cleaning. As mentioned above, this method can not clean through the small corner of unreachable geometry and is also extremely time-consuming. The dry ice blaster can clean around sensitive surfaces such as wiring, circuit boards, sensors, and compressed air lines. The non-abrasive cleaning capabilities of the machine makes it possible to clean areas where traditional methods could not.


You can also use dry ice blaster to clean wood of old construction
Dry ice blasters that can be used in food industry


I3 MicroClean 2

SPECCo2 I3 MicroClean 2 is an upgraded successor from its predecessor – the I3 MicroClean with the following benefits:


Uses dry ice cubes or ice cubes and can operate at speeds as low as 12 cfm (0.3 m³/min) at variable air pressures from 20 to 145 psi (1.4 – 10 bar) .
The i³ MicroClean 2 offers an intuitive display with a 7-inch LCD screen and digital controls.
Super efficient: i3 MicroClean 2 is designed to reduce overall consumptive usage by more than 25% compared to i3 MicroClean.
Using less air pressure, it also produces less noise.
IoT Capabilities: Remote Monitoring with SPECCo2 CONNECT.
Absolute cleaning ability: Deep clean on all-terrain surfaces.


Aero2 PCS 60

Aero2 PCS 60 is designed to give users full control using SPECCo2's patented Particle Control System (PCS), which allows users to customize dry ice firing parameters. Besides, dry ice will also be cut into diamond-shaped particles according to the size selected by the operator (from 0.3mm to 3mm).

Some advantages of the PCS 60 series:

Performance changes industry. The blast stream is consistent and pulse-free.
Intuitive display, easy to view and control burst parameters on 7" LCD screen.
Full control provides a level of precision and flexibility even at a distance.
Applications (burst pressure, particle size, feed rate) programmable; ensure the most efficient use of materials and prevent errors during operation.
The machine is ergonomically designed. Optimizing and combining materials, reducing weight and size together with redesigned bellows provides greater flexibility and durability.
Reduces noise and cleans effectively at lower blowing air pressure.
IoT capabilities for remote monitoring and diagnostics with the industry-first SPECCo2 CONNECT.
Aero2 PLT 60

SPECCo2 Aero2 PLT 60 is suitable for applications that require more robustness. This is one of the most efficient dry ice machines available on the market.


The machine includes a SureFlow feeding system that not only helps users to minimize air pressure loss but also maximizes air supply capacity and limits dry ice waste. In addition, the 7" LCD screen provides an intuitive display that allows the user to easily view, program or adjust the dry ice parameters as well as the machine settings. Such as adjusting the burst pressure and feed speed parameters.


PLT 60 is IoT enabled through SPECCo2's 4.0 technology solution, SPECCo2 CONNECT®. The system provides remote monitoring and diagnostic capabilities.


You can have a look of our Icetech series dry ice blaster
Conclusion


In fact, the application of dry ice blasting in food industry is very various in different ways. You can use dry ice blaster to clean any machines and equipment in food processing industry


If you need to learn more about SPECCo2 dry ice blaster, do not hesitate to contact Specco2 for 24/7 support.


---
Reference: https://blog.coldjet.com/how-is-dry-ice-blasting-used-in-food-and-beverage