Mold is an issue that every house owner, factories and plants will have to face from time to time. Having mold spores will not only causes potential dangers to the health of the homeowner and employees but also causes unappealing visual and affects the quality of our facilities, property and house's structure. Join Specco2 team to learn more about how using a dry ice blasting will help remove mold effectively in a long term in the article below.
Problems
When humidity is combined with ideal ambient temperature, mold will develop. This affects the health of family members because it can cause many allergic and respiratory diseases such as asthma, sneezing, headache, fatigue, and joint pain,… The longer this situation lasts, the more mold grows and develops. Making our home unappealing, worsening the allergic symptoms, and affecting the structure of the house (such as wooden frames, ceilings, attics, etc).
To solve this problem, traditional cleaning methods such as sandblasting, scraping, hand scrubbing, or chemical spraying of mold removers have been applied but the results are not as expected. This is because small holes or hard-to-reach surfaces and crevices prevent the mold from being completely cleaned, are labor-intensive, worn-out objects over time, and can take up to 5-6 working days to get the job done. In addition, the use of biocides or chemicals not only affects the health of cleaning staff and family members but also costs a lot of money for secondary waste disposal.
Solutions
Therefore, the solution for cleaning mold with a dry ice machine was born and proved to be the ideal first choice because of its ability to eradicate mold at its root and many other benefits. These can be mentioned as:
No use of harmful chemicals, environmentally friendly
Minimizing labor time, shortening cleaning time
No creating secondary waste
Optimal cleaning, moisture-free and ensured mold spore removal from all surfaces
Improve the health of the homeowner
Improve the aesthetics of your home, the longevity and quality of your property
Can be used to clean directly in places with electrical wires without having to de-energized during the remediation process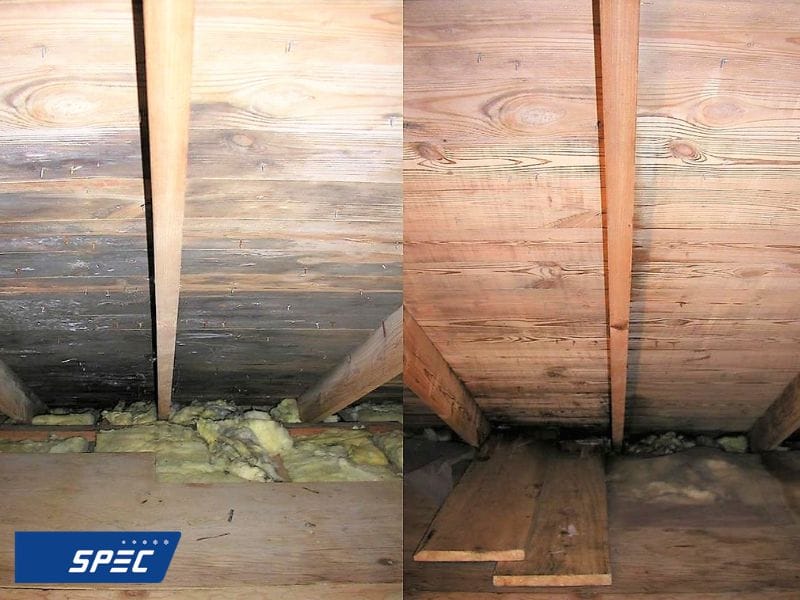 To operate, a dry ice blasting machine uses recycled CO2 dry ice and operates on three main features: pellet kinetic energy, thermal shock effect, and thermal-kinetic effect. Dry ice will then be fired at supersonic speed and collide with the surface to be cleaned. The combination of kinetic energy and thermodynamics will break the bond between the impurities and the surface that needs to be cleaned, removing mold spores in just one use. At this time, the dry ice will sublimate immediately, turn from its solid form to gas and then evaporate. 
Read more: what is dry ice blaster ?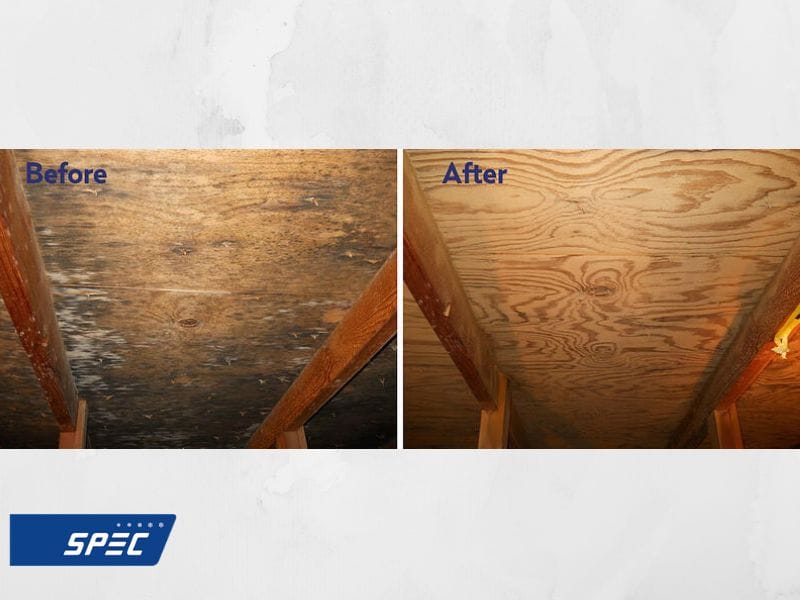 In order to have a simple set up for the dry ice blasting machine, you will need the following equipment: a blast, an air hose, an applicator, and a nozzle suitable for your cleaning purposes. Depending on the needs of usage, there will be nozzles that comes in different sizes. And to operate the machine, you will need 3 items
Compressed air source (either plant air or an air compressor)
Electric power source
Dry ice supply
An after-cooler will be useful when you are currently utilize a portable diesel compressor as your air source. It will leave the system moisture-free and cool the surrounding air at around 15°F (-9.4°C), depending on the humidity levels.
Results
When cleaning mold with a dry ice machine, a team of employees in the US said they were able to shorten the cleaning time much faster than sandblasting for up to 2 days. The interior of the house where the mold used to be has been restored to its original condition without any residual moisture or odor as the dry ice is colorless and odorless; it evaporates after coming in contact with the surface and dislodging the mold spores.
Dry ice can be applied in these two industries:
You might also need a dry ice making machine to produce dry ice to be more aggressive in your job. The insulated container of Specco2 is highly recommended to store dry ice in the best condition
If you compare dry ice blasting and laser cleaning, dry ice blasting has proven with more advantage

Dry ice blasting machines for mold cleaning
The Aero series
The Aero series is one of the entry-level machines at Specco2 that guarantees the best tablet integrity with the most reliable out-of-the-box cleaning ability on the market.
Aero 40FP
Aero 40FP dry ice machine is a full pressure industrial cleaning machine including:
Aerodynamic loads reduce wear on pads and rotors, increasing machine life.
Compact motors reduce weight and power consumption.
The rotor provides stable pellet flow without pulses and precise feed rate control.
Wide range and full range of burst pressures.
On-board pressure regulator.
All customized with accessories that will bring out the best in your environment, the Aero 40FP offers new technology in a proven design.
Aero 80FP
The Aero 80FP is a full pressure dry ice cleaning system with advanced technology that is highly efficient and extremely cost-effective. This is also an upgraded version of the Aero 40FP series with almost double in all parameters (in terms of weight, size) and superior cleaning ability which gives all nooks and crannies together with surfaces a thorough cleaning without spending a lot of downtimes.
Some advantages of the Aero series in general:
The patented SureFlow Performance System allows the operator to run a full hopper through 100 feet of pipe without poking, clogging, or wasting cleaning.
Patented Feeder Technology Aerodynamic loading to reduce gasket and rotor wear.
Advanced radiating power system Allows aerodynamic loading to reduce wear and prolong machine life while providing pulseless bursting and precise feed rate control.
Pressure range Gentle cleaning at 20 psi (1.4 bar) to explosive at 300 psi (20 bar).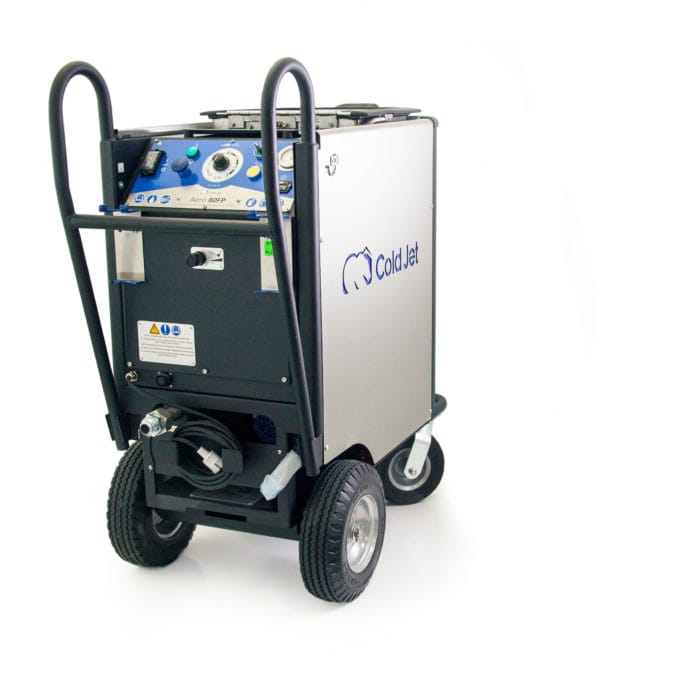 The Aero 2 Series
Following the birth of the Aero series is the Aero2 series – this is the most efficient dry ice blaster available on the market; giving you full control, even when you're not on site.
Aero2 PLT 60
Built on ground-breaking Aero2 technology, the PLT 60 is designed for applications that require more robustness, making it the most efficient dry ice machine available. This machine is enabled through Cold Jet's 4.0 technology solution, Cold Jet CONNECT which provides remote monitoring and diagnostic capabilities.
With the SureFlow feeding system, it not only helps users to minimize air pressure loss but also maximizes air supply capacity and limits dry ice waste. In addition, the Aero2 PLT 60 features a 7" LCD display with digital controls, providing an intuitive display that allows the user to easily view, program or adjust the firing parameters. dry as well as install the machine. Such as setting and saving burst pressure and feed speed parameters.
Aero2 PCS 60
The Aero2 PCS 60 is designed to give users full control using Cold Jet's patented Particle Control System (PCS), which allows users to customize dry ice firing parameters. Besides, the dry ice will also be cut into diamond-shaped particles to the exact size selected by the operator (from 0.3mm to 3mm).
Some advantages of the PCS 60 series:
Performance changes industry: The blast stream is consistent and pulse-free.
Intuitive screen: Easily view and control blasting parameters and machine settings on the 7" color LCD display.
Full control provides a level of precision and flexibility even at a distance..
Programmable applications: The user can set and save application formulations (burst pressure, particle size, feed rate), thereby ensuring the most efficient use of materials and preventing errors during operation.
Ergonomics: The machine is designed to optimize and combine materials, reducing weight and size with redesigned bellows for greater flexibility and durability.
Lower noise level and effective cleaning at lower blowing air pressure.
IoT capabilities for remote monitoring and diagnostics with the industry's first Cold Jet CONNECT.
PCS 60 is IoT enabled through Cold Jet's 4.0 technology solution, Cold Jet CONNECT. The system provides remote monitoring and diagnostic capabilities.
You can have a look of our Icetech series dry ice blaster
Conclusion
Dry ice blasting machine is a ideal solution not only because it can eradicate mold, restore the original beauty of your home but also extremely friendly to the environment, does not leave moisture and definitely does not use chemicals to ensure the health of the users.
Currently, Specco2 is the genuine distributor of Cold Jet in Vietnam, specializing in distributing dry ice blasting machines and producing dry ice. If your business needs consulting, please contact Specco2 for 24/7 support.