The dry ice blasting machine is a preeminent cleaning means, which is gradually dominating the Vietnamese market and trusted by factories and plants because of its efficiency. This machine can clean the surface of all equipment, including highly difficult electronic devices that require careful attention to detail. Let's join Specco2 to learn more about how we can use dry ice blasting machine to clean electrical equipments.


Difficulties encountered when cleaning electrical equipments


In the factory and manufacturing environment, contaminants such as dust, dirt and product residues generated during the manufacturing process can creep and adhere to the surfaces of distribution boards, switchgears and other electrical equipments. Over time, these substances can accumulate, leading to ineffective operation of the machine. Reducing the reliability and performance of the distribution board as well as the risk of overheating and other damage can cost businesses hundreds of millions of dollars. Another important factor is that when cleaning electrical equipment, there should be no water and moisture involved. Cleaning by wiping, scrubbing is very time consuming while the crevices still have dust in the small cavities where we can hardly reach.
A specific example is the German company Eichler, which specializes in the manufacture and repair of electronics and automation technology in the fields of HMI, control systems, drive technology and robotics.
In order to be able to repair electronic components that are protected by lacquer, and other heavily soiled parts such as fan components and housings.
They have used many methods to clean several times a day, including using either the pneumatic cleaning method or the manual method with detergent. Howevers, these two methods are time consuming and often ineffective.

Therefore, dry ice blasting machine was born to help factories and plants to solve this problem.


How dry ice blasting machine operates to clean electrical equipment


The machine uses the main material of CO2 dry ice, which is converted from gas to solid form and is a soft material as it is only in the range of 1.5 – 2 on the Mohs hardness scale. Therefore, dry ice is often used for industrial cleaning purposes with many different shapes and sizes.


For factories and plants that need to clean electrical panels, circuits or small hard-to-reach crevices, the dry ice blasting machine can provide optimal cleaning with a variety of nozzles that come with different sizes as well as different rotation angles. together. Removing stains, leaving no secondary waste and can be done while the device is still in use.


How to use a dry ice machine is very simple, you will only need to perform two steps:


Pour 2-3 bowls of dry ice into the hopper and blow over the engine parts that need cleaning, including hard-to-reach surfaces.
Dry ice is accelerated by compressed air, through specially designed nozzles at supersonic speed, hitting the surface of the device. Dispels stubborn plaque and dirt on engine surfaces without leaving any secondary waste behind.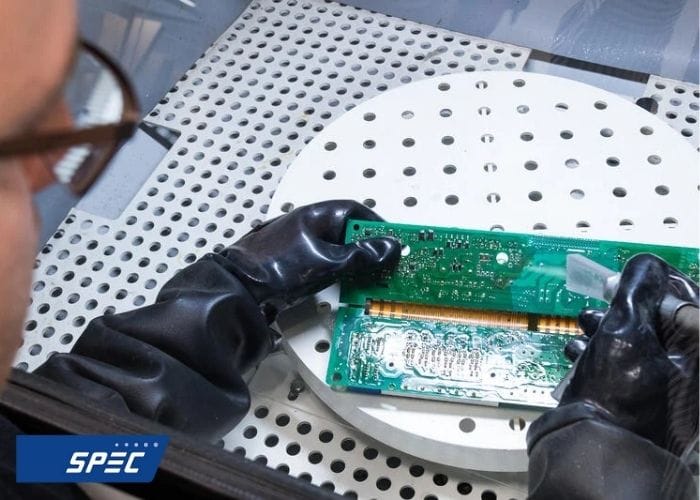 Benefits of using a dry ice blasting machine to clean electrical equipment


1/ Time-saving and superior cleaning


With a dry ice blasting machine, you can rest assured that your equipment can be cleaned to the maximum thanks to scientifically advanced technology. Save up to 75% cleaning time compared to conventional methods, allowing operators to start using the machine while it's still running and minimizing downtime.


2/ Improve machine performance


You will not need to spend time disconnecting the power or suspending production to clean every small, hard-to-reach crevices of electrical devices. Now, you can directly clean even when they are in operation or used. This minimizes machine downtime, increases production efficiency and helps businesses gain more profits.


3/ Safe for workers' health


Dry ice machine can ensure safety for the health of both the operator and the workers. The combination of kinetic energy and thermodynamics will break the bond between the debris and the device surface, removing stains in just one use. Easy cleansing practice that can clean down to every detail without using any harmful chemicals. Super environmentally friendly with satisfying results.


4/ Environmentally friendly


Dry ice is a colorless, odorless product created as a by-product of other industrial processes and then collected and recycled. Thanks to this feature, when in used, the machine will not contribute to the greenhouse effect as well as global warming. It is also an EPA, USDA, and FDA approved material thanks to its non-toxic, non-hazardous characteristic and is approved to use around food.


5/ No secondary waste


For cleaning, the dry ice blasting machine uses recycled CO2 as a by-product that is converted into its ice form. Upon impact with the surface that needs cleaning at supersonic speed, dry ice sublimates and changes from solid-state to gaseous then vaporizes.. This makes cleaning extremely easy and pristine, leaving no secondary waste and a completely dry, moisture-free cleaning environment.


Electrical applications that can be cleaned with dry ice blaster


The following are electrical equipment that is often cleaned in the manufacturing and industrial sectors. May be mentioned as:


Power plants
Electric motors
Electronic circuit board
Generators
Turbines
Insulator
Switch board

Dry ice can be applied in these two industries:
You might also need a dry ice making machine to produce dry ice to be more aggressive in your job. The insulated container of Specco2 is highly recommended to store dry ice in the best condition
Dry ice blaster that can be used to clean electrical equipments


I3 MicroClean


The i³ MicroClean is a compact, lightweight, single-hose low pressure, electric blasting system that utilizes dry ice block with low flow rates of 12 cfm and blocks of ice at variable air pressures from 20 to 140 psi (1.4 to 9.7 bar).


I3 MicroClean advantages:


Efficient: Efficiently uses dry ice providing as much as 45 minutes of cleaning before reloading.
Designed for Precision Applications: Safely clean delicate surfaces and complex cavities.
Flexibility: Adjustable blast pressure allows for flexibility in order to optimize performance.
Low Noise Operation: The MicroClean requires less air pressure to operate effectively, resulting in a quieter operation.


I3 MicroClean 2
I3 MicroClean 2 is an upgraded successor from its predecessor – the I3 MicroClean with the following benefits:


Super efficient: This machine is designed to reduce overall consumptive usage by more than 25% compared to I3 MicroClean.
Easy control: You can adjust, save and access user-defined burst parameters for greater efficiency thanks to the 7″ LCD display.
Using less air pressure, it also produces less noise.
IoT Capabilities: Remote Monitoring with SPECCo2 CONNECT.
Absolute cleaning ability: Deep clean on all terrain surfaces.


You can have a look of our Icetech series dry ice blaster
Conclusion


A dry ice blasting machine is an investment in the long run because of its superior cleaning capabilities and efficiency. Especially in electrical applications that require safe, careful and moisture-free cleaning. Not only will it help plants and factories save a lot of time, but also increase production efficiency, saving resources as well as being environmentally friendly.


Specco2 is the authorized distributor of SPECCo2 in Vietnam, specializing in distributing dry ice machines and producing dry ice. If your business needs consulting for buying our dry ice blasting machines, please contact Specco2 for 24/7 support.