During the operation of factories and plants, it won't be very hard to catch a glimpse of equipment and machines encountering rust and signs of corrosion after a long time using; which is very difficult to remove. Join the Specco2 team to learn more about the dry ice blasting machine and how its superior cleaning ability can help big time in removing rust and corrosion in the article below.


Problems


During the operation of manufacturers and factories, equipment, machines, and tools often encounter rust after a long time of use. This is because metal equipment, when exposed to the right air and humidity, will lead to the formation of corrosive surfaces that usually have the color brown or reddish-brown. In addition, rainwater and reactive impurities can also cause metal surfaces to rust. This will cause the machine to operate less efficiently. When there is too much rust adhering to the surface, the equipment will be severely damaged and cannot operate as well as before, affecting the quality of work and above all, increasing the cost of repair or machine replacement.


To clean rust stains, corrosive and pitted oxidation surfaces on equipment, people often use rust remover chemicals as they don't cost much and the results is also quite alright. However, the use of chemicals can adversely affect the health of the cleaning staff. Also, the acid in the chemical solution can accelerate the corrosion process, reducing the longevity of the piece of equipment significantly.


Solution


To solve this problem, people have gradually turned to an alternative method of cleaning rust and corrosion. It is by using a dry ice blasting machine because of its outstanding cleaning performance and great advantages. Such as:


Optimal cleaning and moisture-free, there's no need to be afraid of rust anymore
No harmful chemicals are used, very friendly to the environment
Minimize (manual) labor time, shorten cleaning time
Non-abrasive, prolonged the equipment's life
No secondary waste, reducing cleanup and disposal costs significantly
Effective removal of coatings, rust, and corrosion, improving machine's productivity
Improves the appearance of the appliance used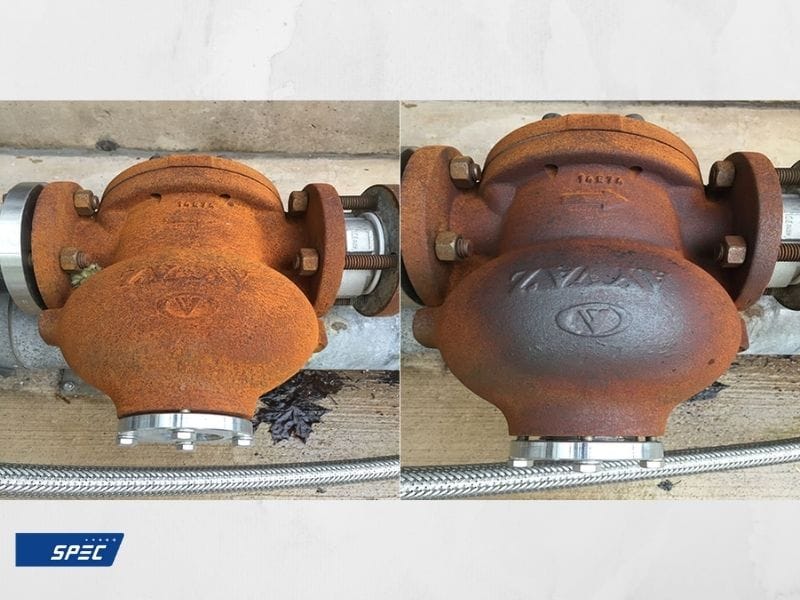 The dry ice blasting machine is a superior cleaning device that uses dry ice made primarily from recycled carbon dioxide so that when in use, it will not contribute to the greenhouse effect and is considered very friendly to the environment. The machine works mainly by blasting dry ice conducting through a specially designed nozzle at supersonic speed. When it collides with the surface of the rusted device, the dry ice will break the bond between the impurities and the device surface, removing the stain in just one use and then sublimating. This phenomenon is created thanks to the combination of kinetic and thermodynamic energy and will not leave any secondary waste. Incredibly safe for user's health and easy to use.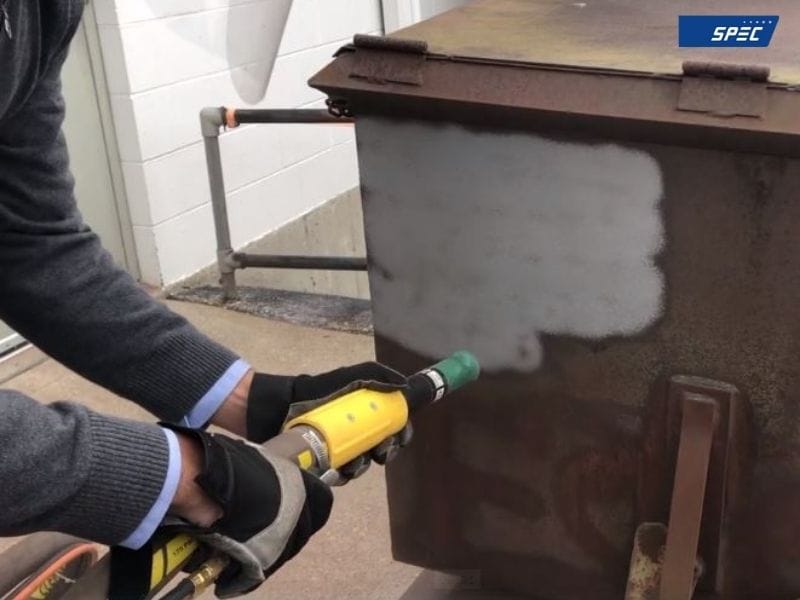 By using a combination of dry ice blaster and E-CO 150 (Abrasive solution + dry ice for paint removal, coating, and corrosion removal) we can remove deeply pitted rust and corrosion while eliminating the problems of traditional removal methods; such as excessive dust and waste. The solution achieves is a metal surface restored to its white finish (original state); achieving standard surface qualities such as SP 10 / SA 2.5 / NA 2.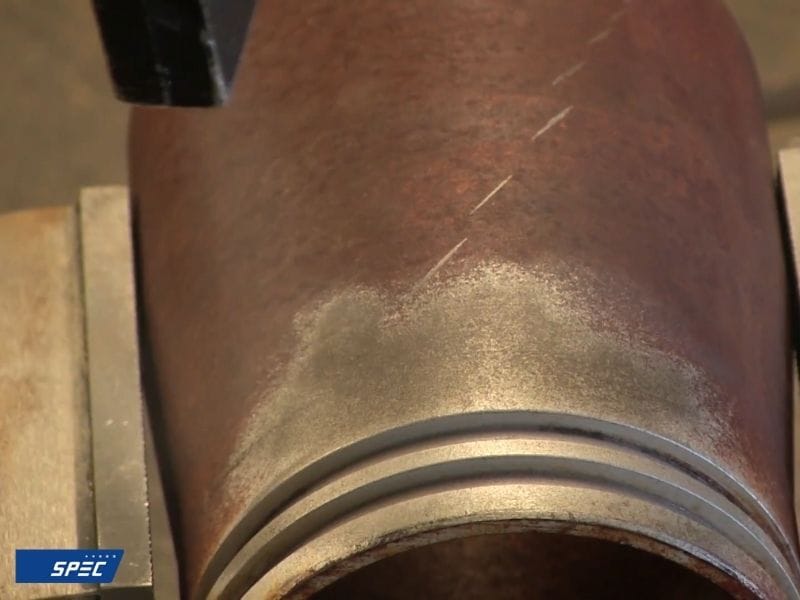 Dry ice blasting machines for rust removal


Aero Series


series Aero series is one of the basic models in Specco2 guarantees the best tablet integrity with the most reliable cleaning excellence on the market. The machines of this line are specialized for cleaning mold as well as machines and equipment.


SPECCo2 Aero 80FP


Aero 80FP is a full-pressure dry ice cleaning system with advanced technology that is highly efficient and extremely cost-effective. This is also an upgraded version of the Aero 40FP series with almost double all parameters (in terms of weight, and size) and superior cleaning ability; helps to deep clean all surfaces, nooks and crannies without spending a lot of downtime.


Some advantages of the Aero series in general:


The patented SureFlow Performance System allows the operator to run a full hopper through 100 feet of pipe without poking, clogging, or wasted cleaning.
Patented Feeder Technology Aerodynamic loading to reduce gasket and rotor wear.
Advanced radiating power system Allows aerodynamic loading to reduce wear and prolong machine life, while providing pulseless bursting and precise feed rate control.
Pressure range Gentle cleaning at 20 psi (1.4 bar) to explosive at 300 psi (20 bar).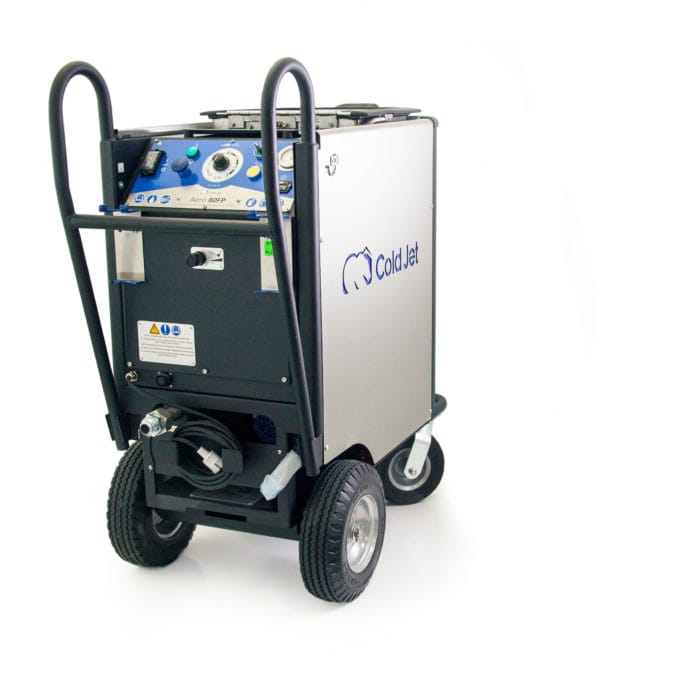 Aero 2 Series


Series The Aero2 Series is the highest performing dry ice machine available on the market. They are truly intelligent machines that give you complete control, even when far away.


SPECCo2 Aero2 PLT 60


Breakthrough Aero2 technology has given the PLT 60 an innovative design, suitable for applications that require more robustness. This is one of the most efficient dry ice machines available on the market.


The machine includes a SureFlow feeding system that not only helps users to minimize air pressure loss but also maximizes air supply capacity and limits dry ice waste. In addition, the 7" LCD screen provides an intuitive display that allows the user to easily view, program or adjust the dry ice parameters as well as the machine settings. Such as setting and saving burst pressure and feed speed parameters.


PLT 60 is IoT enabled through SPECCo2's 4.0 technology solution, SPECCo2 CONNECT®. The system provides remote monitoring and diagnostic capabilities.


Conclusion


For machinery and equipment that are experiencing long-term adhered rust and corrosion which are difficult to clean, a dry ice blasting machine will be an ideal choice to conquer this problem. This cleaning device will help improve the performance and prolong the life of the equipment without the use of chemicals and is moisture-free. It is also very friendly to the environment and ensures the health of users.


Specco2 is the authorized distributor of SPECCo2 in Vietnam, specializing in distributing dry ice machines and producing dry ice. If your business needs consulting for buying our dry ice blasting machines, please contact Specco2 for 24/7 support.