Dry ice is a versatile material that can be used for many purposes; such as the preservation of medicines, vaccines, medical equipment,… and equally important is the preservation of food for consumers when transporting long distances. Together with Specco2's team, let's learn more about the application of dry ice used for shipping food!


What is dry ice?


Dry ice, also known as the solid form of CO2, is a freezing and cooling material with many practical uses. This type of media is also extremely diverse in size, they can be in the form of cubes, blocks, or even pellets,… The variety in shapes is made in order to meet the user's needs and usage.


Another remarkable feature is that all dry ice used in the process of transporting is made from recycled CO2, a by-product of other industrial processes. Thanks to that, during the before and after usage, it does not produce or add harmful CO2 gas to the atmosphere! This material is considered to be completely environmentally friendly and therefore does not cause the greenhouse effect.


Why dry ice used for shipping food


Dry ice is a material with welding properties, so it has a very cold temperature, in the range of -78°C. At this degree, it is super freezing and can cause frostbite when handled carelessly. Therefore, when we put dry ice in insulated containers with foods, whether it's canned, fresh food, or fruits and vegetables,… everything will be well-preserved for a certain period of time. This depends on how you choose to use the insulated container (or thermocol boxes), it can be a foam box or something else. If you choose to use Olivo's isothermal containers, the products will be preserved for 12-24 hours without the need for any external power source to run and maintain the temperature. Thereby, it helps business owners and companies to save maintenance costs or additional costs incurred during transportation.


Olivo – The best solution for shipping food with dry ice


To transport food from the source/provider to the consumer, we need to consider two factors very carefully: First, the dry ice media and second, the insulated container to store both dry ice and foodstuffs that need to be shipped. This is to ensure that everything is kept in top condition and preserved at high quality throughout the whole time. Also, it is to avoid item damages caused by temperature fluctuations during transportation.


In the past, businesses used to use styrofoam coolers for shipping, but the material itself is not very helpful, difficult to clean, unable to maintain the cold temperature for long, and cannot be reused many times. In addition, because they are made from CFCs (Chlorofluorocarbon), these products deplete the ozone layer and contribute to global warming, which is harmful to the environment. Since then, Olivo has created insulated cabinets in different sizes, features, and usages to solve this problem.


Olivo is the world's leading brand of insulated boxes chosen and trusted thanks to their eco-friendly features in each product, which is very long-lasting and can be used sustainably over time. Olivo's product lines are made from easily recyclable EPP (Expanded polypropylene) and non-toxic eutectic plates, which are easy to use and thermally protect the dry ice stored to stay cold for a long time. These factors are all important because not only do they protect the health of the carrier, but also reduce the sublimation of the dry ice significantly during the process of transporting.


Olivio insulation cabinets can all be reused and divided into different types, in terms of configuration as well as storage volume, depending on the needs of the user:


Roll: The front door opener box is specialized for service. Catering, seafood storage. The product is ATP certified, can maintain the product temperature for more than 24 hours and travel more than 80km while keeping the ideal cold.
Box: Specialized for Last-mile delivery purposes and for preservation needs up to 12 hours. Guaranteed min 500 to max 1000 reuse without any problem.


Thanks to its self-contained system, the Olivo Insulation Boxes do not need any external power to run and maintain temperature, so it is extremely flexible to use. Even if you encounter problems during transportation such as traffic jams, having to close and open the car door many times, the container has to wait to be unloaded from the cargo ship, etc., rest assured that the goods are completely thermally protected and there is no cold chain interruption. Thereby, minimizing operating and maintenance costs compared to using specialized refrigerated trucks.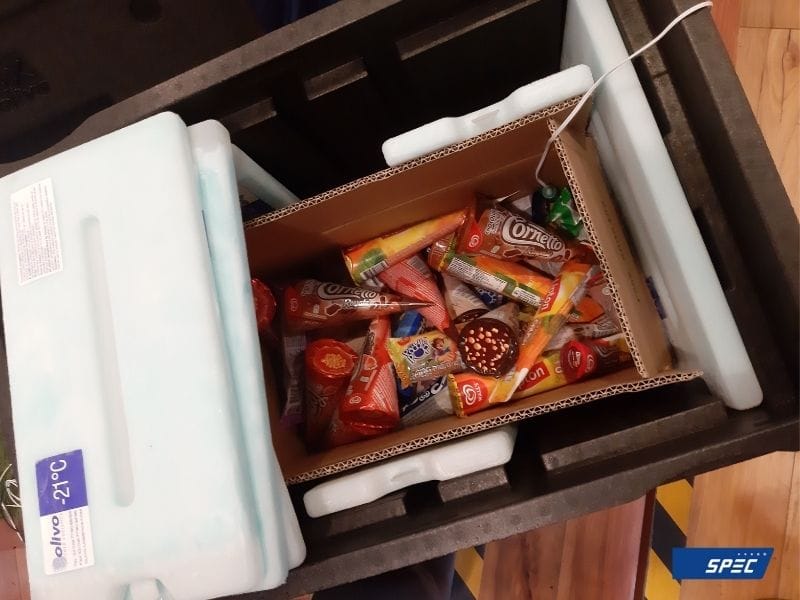 IV. Some of Olivo's insulated containers


ROLL's insulation cabinets – Insulation cabinets with wheels


The ROLL product line has a sustainable design, made with very durable Polyethylene technology, with high impact resistance. In addition, the product also has a dual temperature refrigeration system – SIBER SYSTEM, suitable for transporting mass-distribution food.


ROLL 370


Outside dimensions in mm (L x D x H): 800 x 600 x 1670 mm
Inside dimensions in mm (L x D x H): 620 x 430 x 1370 mm
Inner volume: 365 liter
K-value: 0.37 W/
m2.K Unladen weight: 80Kg
Insulation: Polyurethane foam
: Food grade polyethylene
Size: Euronorm crate 600 x 400 – Half Euro-pallet 800 x 600


BAC – Insulation cabinet without wheels with top cover


The BAC product lines are standard insulated specialized food storage cabinets used by mass retailers to supply local supermarkets and convenience stores. Deliver to multiple recipients without worrying about cold chain disruption.


BAC 55


Outside dimensions in mm (L x D x H): 600 x 500 x 580 mm
Inside dimensions in mm (L x D x H): 415 x 315 x 410 mm
Inner volume: 53 liter
K-value: 0.38 W/
weight: 16Kg
Insulation: Polyurethane foam
Case material: Food-graded polyethylene
Dimensions: Quarter ISO pallet 1000 x 1200


Conclusion


In order to transport food from suppliers to distributors, supermarkets, retail stores, etc., excellent preservation measures are required because otherwise they will be damaged, unusable, and cause great losses. Therefore, we can use dry ice to preserve foodstuffs, stored together in an insulated container to ensure that even for long-distance shipping, the quality of the product is still guaranteed.


Right now, Specco2 is proud to be one of the trusted and exclusive distributors of insulated cabinets in Vietnam. If your business needs consulting, please contact Specco2 for 24/7 support.