Cleaning the factory is an important job that all workers and managers need to know and master. Because it is directly related to the production activities and productivity of the factory.


Specco2 will show you how to properly clean the factory and how the advantages of the dry ice blaster are useful when cleaning the factory through the article below.


What is factory cleaning


Factory cleaning is the technical operation of tidying and cleaning machinery – equipment areas, workshop areas, etc in order to provide a clean and safe working environment for businesses.


Why factory cleaning is essential


The primary function of factories is to manufacture goods. In order to ensure the smooth operation of the production process and a working environment at the factory to go well, we need to periodically clean the factory. The degraded factories have an impact on the following 4 main factors:


Contamination risk: Dirt, mold, and pests can contaminate factories and affect the production process.
Machine life: If not maintained regularly and periodically, expensive machines, tools, and equipment can accumulate dust, rust, water leaks, and other problems. Thus, it will eventually lead to a waste of human forces, resources, and even finances for regular repair and replacement.
Reduced productivity and work efficiency: A cluttered factory environment with dirty floors, cobwebs on the walls, rusted equipment with a black, lumpy surface, and operation weakly due to lack of regular maintenance can cause some serious and major problems.  Thus,  factories that aren't clean can negatively impact the quality of your products as well as employees' mentality.
Safety principles: Floors, stains, and liquids that are not swept and cleaned after each shift pose a serious safety risk to factory workers. Negligence can lead to occupational accidents. Remember that clean factory conditions will protect workers and allow for the production of high-quality products.


Through the reasons above, it can be seen that the cleaning of the factory is extremely essential not only because it is beneficial to the working environment but also to ensure the safety of workers and the hygiene of the manufacturing process.


Factory Cleaning Process


Factories often have a very large space along with high ceilings so when it comes to cleaning and sanitizing, there needs to be a specific process to manage the process. The factory cleaning process consists of 5 steps as follows:


Step 1: Clean the ceiling of the factory


The ceiling is the first place that needs to be cleaned in the factory. Usually, the ceiling is designed in the form of crossbars with wires and light bulbs, which over time will amass a lot of dust in the openings and spider webs everywhere.
To ensure safety, employees who perform direct cleaning should be fully equipped with necessary protective equipment such as protective uniforms, masks, gloves, hats, shoes, and safety belts provided by the company. In addition, because the ceilings of factories are often 8-12m high it will require specialized equipment such as A and L-shaped folding ladders, a tarpaulin to avoid dust falling and scattering all over the place. Thus, let the cleaning process take place safely and effectively.


Step 2: Cleaning the surrounding locations


At locations around the factory, cleaning staff will clean up, dirt and rust clinging to the surface of the walls or corners. In addition, locations around the premises may also include


Lobby
Doors out
Generic path
Factory Gate
Stair
Office
Closet
Kitchen, dining room,…


Step 3: Clean and sanitize equipment in the factory


The next step is to clean the equipment. In factories, machines and equipment are the most frequently used items and always operate with high intensity. Over a period of time used, it will be likely to accumulate dust, dirt, rust, or operate inefficiently due to not being maintained regularly. In addition, stains such as ink, dirty production lines are also abrasive agents and need to be taken care of.


Going into greater detail, it is clear that the machines in the factory vary greatly in terms of type, shape, and size. Therefore, it is necessary to choose the right cleaning method to not only clean safely but also not to wear the machine. For equipment and machines that require high and precise cleaning standards, the maintenance and cleaning team often chooses dry ice blasting as the optimal solution


Step 4: Perform factory floor cleaning


The factory floor is the last place that needs cleaning and also the most time-consuming step to do because the area is large and has a lot of dirt, grease, chemicals, etc. cling onto its surface. Normally, when cleaning, the technical team will use a floor cleaning machine, leaving the factory a gleaming, spotless floor. Depending on the condition and type of floor sometime the team will use dry ice cleaning solutions.


Step 5: Double-check all the cleaned areas


This is the last stage of the factory cleaning procedure. In this step, we will double-check all of the previous steps of the process to ensure that everything is tidy and clean. If one part of the area is unsanitary, it must be cleaned again.


Some regulations when cleaning the factory


Article 1: Employees must equip and use labor protection equipment and uniform provided by the company during work.
Article 2: Employees must comply with the cleaning process in accordance with the procedures.
Article 3: Check in advance the condition of equipment and machinery used for the cleaning process before working. If damage is detected, the employee should report to the company to be provided and replaced with new equipment to avoid arising equipment-related issues during the cleaning process.
Article 4: Employees must abide by the schedule and complete the tasks assigned.
Article 5: Employees are not allowed to clean machinery and equipment without prior training.
Article 6: Employees are not allowed to operate equipment used for cleaning the workshop without being trained properly about safety use as well as how to operate the machine.
Article 7: Employees must be trained about the cleaning process as well as the equipment used for cleaning and how they operate.


Factory cleaning procedures' template


The factory cleaning procedure form plays an important role in checking the work progress. Specifically, it includes the following advantages:


The cleaning procedure template provides the supervisor with detailed information. The form allows the supervisor to monitor the cleaning and sanitizing process, allowing the job to run smoothly and deliver decent results.
The template also aids readers (or supervisors) in determining who is in charge of certain sections when it comes to cleaning. As a result, any issues that surface during the inspection can be remedied quickly.
The template will show all of the sections in the plant that need to be cleaned and sanitized, making it easier for the cleaners to identify and comprehend the area they've been allocated.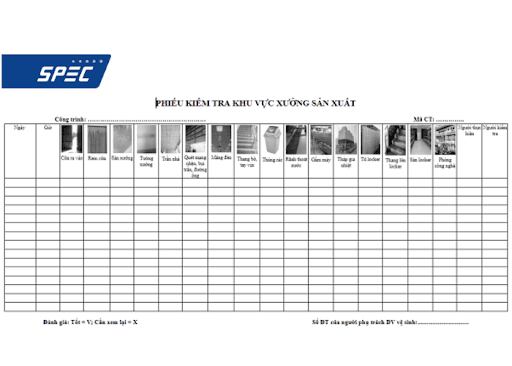 Advantages of factory cleaning with dry ice blaster


Abrasive-free: Dry ice blasting is an incredibly effective cleaning method that outperforms sandblasting since it cleans the surface of the device without destroying it.
Reduced downtime: By using a dry ice blaster, you can clean your equipment without having to disassemble, relocate, and reassemble it throughout the cleaning process, reducing downtime from days to hours.
No secondary waste disposal: One of the greatest advantages of a dry ice blaster is that in progress, you will not see any secondary waste and it is completely environmentally friendly. You'll only need to treat the dirt that has been removed by sweeping or vacuuming the floor.
Dry ice blasting is a safe cleaning procedure that prevents workers from being exposed to silica, soda, sand, and other harmful substances.
Faster cleaning process: Thanks to a combination of multiple nozzle types and ultrasonic speeds, the dry ice blaster can even clean inaccessible items quickly; making it even faster and more effective than other methods.
Cost savings: The dry ice machine helps business owners save money optimally because the cleaning process does not need to use a lot of chemicals, cleaning solutions and water resources; Deep cleaning with no downtime.


Some of the dry ice blaster models used for cleaning factories:


The Aero Series


The Aero Series dry ice blaster with outstanding performance ensures the best tablet integrity and the most reliable blow-flow maximum cleaning on the market.


Aero 40FP


Aero 40FP dry ice blaster is a full pressure industrial cleaning machine which has:


Aerodynamic loads help reduce weariness on pads and rotors, increasing machine life.
Compact motors reduce weight and power consumption.
Rotor provides stable pellet flow without pulses and precise feed rate control.
Wide range and full range of burst pressures.
On-board pressure regulator.


Customized with accessories that will bring out the best in your environment, the Aero 40FP offers new technology in a proven design.


Aero 80FP


The Aero 80FP is a dry ice cleaning system with full pressure and advanced technology that is highly efficient and extremely cost effective. This is also an upgraded version of the Aero 40FP series with almost double parameters (in terms of weight, size) and superior cleaning ability; enabling the machine to deep clean all surfaces, nooks and crannies without spending a lot of downtime.


Some advantages of the Aero series in general:


The patented SureFlow performance system allows the operator to run a full hopper through 100 feet of pipe without poking, clogging or wasted cleaning.
Patented feeder technology aerodynamic loading to reduce abrasion gasket and rotor.
The advanced radiating power supply system enables aerodynamic loading to reduce wear and prolong machine life, all the while providing pulseless bursting and precise feed rate control.
Pressure range for gentle cleaning at 20 psi (1.4 bar) to explosive at 300 psi (20 bar).


The Aero2 Series


The Aero2 Series Dry Ice Blaster is the most efficient dry ice blaster available on the market right now. They are truly intelligent machines that give you complete control, even when far away.


Aero2 PLT 60


Built on ground-breaking Aero2 technology, the Aero2 PLT 60 is designed for applications that require more robustness, making it the most efficient dry ice machine available.


With the SureFlow feeding system, it not only helps users to minimize air pressure loss, but also maximizes air supply capacity and limits dry ice waste. In addition, the Aero2 PLT 60 features a 7" LCD with digital controls, providing an intuitive display that allows the user to easily view, program or adjust the firing parameters as well as the machine's installation such as setting and saving burst pressure and feed rate parameters.


PLT 60 is IoT enabled through Cold Jet's 4.0 technology solution, Cold Jet CONNECT®. The system provides remote monitoring and diagnostic capabilities.


Aero2 PCS 60


The Aero2 PCS 60 is designed to give users full control using Cold Jet's patented Particle Control System (PCS), which allows them to customize dry ice firing parameters. Besides, the dry ice will also be cut into diamond-shaped particles to the exact size selected by the operator (from 0.3mm to 3mm).


Some advantages of the PCS 60 series:


Industry's one of a kind performance. The blast stream is consistent and pulse-free.
Intuitive screen. On the 7″ color LCD display, you can easily view and control blasting parameters as well as machine settings. Even while working from a distance, full control delivers precision and flexibility.
Applications that can be programmed. The user can customize and save application formulations (burst pressure, particle size, and feed rate), ensuring the most efficient use of resources and avoiding operational errors.
Ergonomics. The machine is designed to optimize and combine materials, reducing weight and size with redesigned bellows for greater flexibility and durability.
Lower noise level and effective cleaning at lower blowing air pressure.
IoT capabilities for remote monitoring and diagnostics with the industry-first Cold Jet CONNECT.


PCS 60 is IoT enabled through Cold Jet's 4.0 technology solution, Cold Jet CONNECT®. The system provides remote monitoring and diagnostic capabilities.


The Icetech Series


The IceTech Series Dry Ice Blaster offers reliable dry ice blasters at an affordable price.


Xcel 6 by IceTech


With its compact size and sophisticated working principles, the Xcel 6 maintains smooth cleaning performance while boosting dosing disc performance, providing a reliable cleaning solution.


Some advantages of IceTech Xcel 6 dry ice blaster:
The stainless steel structure is designed to be long-lasting and reliable.
Control the amount of dry ice easily with the dosing system
Insulated lid and funnel ensure minimal sublimation of dry ice and consistent, uninterrupted cleaning.
User-friendly control panel for easy control of dry ice blasting parameters.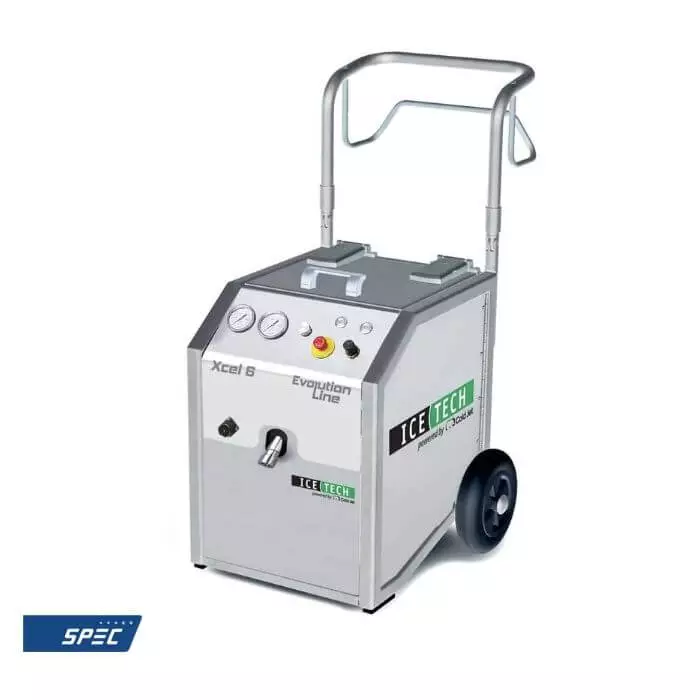 Elite 20 by IceTech


The IceTech Elite 20 series dry ice machine is a heavy-duty dry ice machine that weighs about twice as much as the IceTech Xcel 6 series. It is extremely versatile and can be used for mild, medium, and hard applications while consuming very little dry ice. The Elite 20 is a perfect alternative for cleaning more challenging surfaces, with a 3/4″ nozzle and still possesses all of the benefits of the IceTech Xcel 6 model.


The IceTech Elite 20 dry ice machine and its accessories are built to save you money on production and maintenance. When utilizing dry ice, it is feasible to clean the equipment without having to dismantle and then reassemble it. This saves budget and cuts down on the amount of time businesses and factories have to shut down for repairs and maintenance.


Some features of the IceTech Elite 20 dry ice machine:


7.5m / 24ft 3/4" dry ice tube
10m/32ft 1" air supply hose
IceGun 3/4" with or without light
Cover
Faucet 0.8 mm, type 1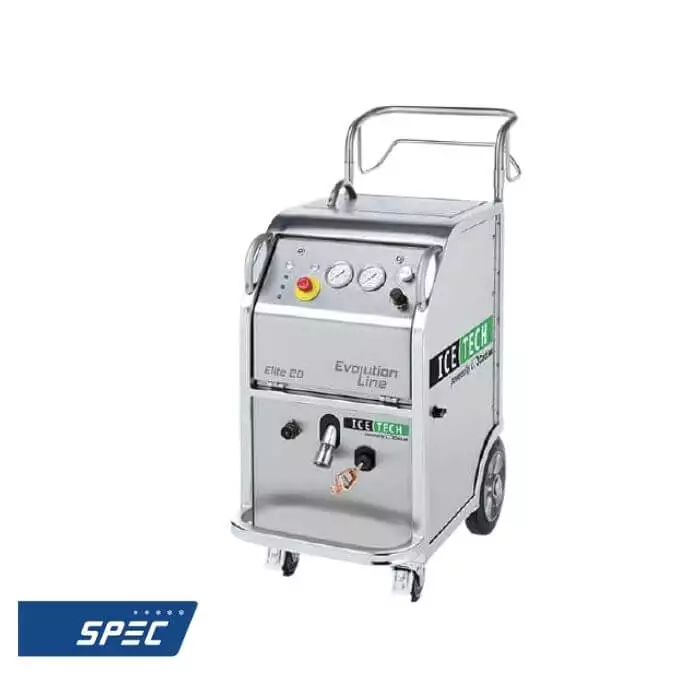 Conclusion


Cleaning the factory to remove stubborn stains and clean old machinery takes a lot of time and money but with a dry ice machine, this job will become much easier, reducing downtime when the factory stops producing and giving back an extremely clean space. Furthermore, it is super environmentally friendly, which is something worth noting. SPECCo2 is very proud to become exclusive Authorized Reseller of dry ice blasting and manufacturing of COLD JET US in Vietnam.