Nowadays, the demand for cleaning cars in Vietnam is increasing significantly because of the growth of the quantity of these vehicles on the street. Besides the simple car wash service, A lot of garages or car workshops offer car tire cleaning services and car engine cleaning services for their customers to make sure the car runs smoothly


However, with a large number of vehicles that need to be cleaned as well as the expectation of customers is going higher than before, the old methods like washing the tire car with water or with oil do not seem to be as effective


Thereby, Specco2 suggest to you the solution with dry ice and how to clean car tires with a dry ice blaster, one of the most optimal solutions today, suitable for garages with a large number of vehicles to be handled.


Why you need to clean car tires periodically


Helping you to drive safer


The first and most important factor when cleaning car tires is that your car will become safer.


Cleaning car tires regularly will increase the vehicle's braking and tractio
In case the dirt of the road, or the surrounding environment, adheres to the layer of the vehicle, they will create a coating on the wheels and make the wheel's frictional capacity significantly reduced. Cleaning car tires regularly will increase the vehicle's braking and traction ability, preventing possible accident situations.
Make your car tires look better


This is the factor that we can't argue. Cleaning your tires regularly will always keep the condition of the car in general and the tires in particular in a brand new condition.


The life of tires is also improved


Tire cleaning on a regular basis will help keep your tires in top condition. You will also easily detect and remove dirt and foreign objects that stick to your tires if you maintain them usually. From there, the life of the tire will be extended compared to cars that are not cleaned periodically.
Prevent the car from being broken


The main cause of tire failure is the presence of sticky substances or hard and pointed materials such as nails in the tires. Cleaning and maintaining your tires regularly will help prevent your vehicle from breaking."
Driving on other terrains is easier


Regular cleaning of car tires can make it easier to drive on other types of terrain such as mud, dirt, and sand, etc.


As explained above, your friction will be enhanced after cleaning, making driving easier.


Some common ways to clean tires


Use car tire polishing solution


This is the old method used by many garages today because of their low cost as well as their convenience.


However, it will take a lot of time to clean. Besides, exposure to chemicals will bring unpredictable dangers to your health.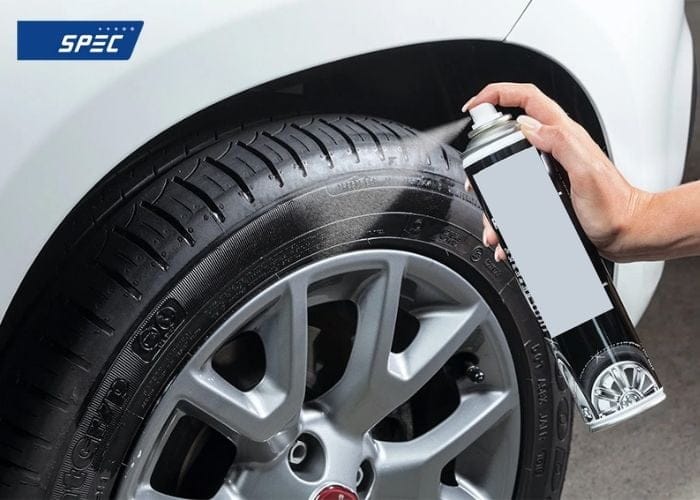 Use Polyurethane to clean car tires


Polyurethane is also a substance used to clean tires, soak them in a chemical and then wipe them straight on the tires. This method will make the tires looks shinier.


However, if you use this method many times, it will cause the tires to lose elasticity, directly affecting the safety of the tires.


Using oil to clean car tires


Cleaning car tires with oil is a method favored by many car workshops in Vietnam because of its ease of use, but you need to clean the tires with water first.


After drying, they will spread a layer of oil on the body of the tires. However, this method does not provide long-term effectiveness because the oil is easily blown away by water and seriously affects the friction of the vehicle, causing danger to the driver.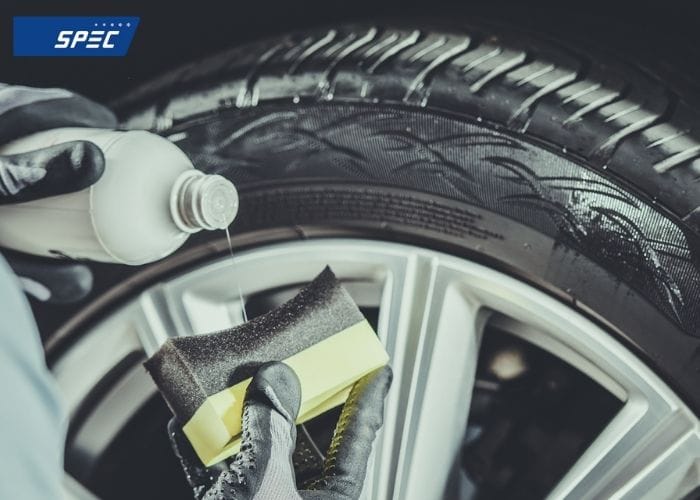 Cleaning car tires by dry ice blaster


A more convenient solution used to clean car tires is using dry ice blasting machine. This method uses dry ice as the main raw material for cleaning.


Before using, you need to prepare the materials including dry ice, dry ice blasting machine, air pressure, air pipe, nozzle, etc.


So, how to clean car tires with dry ice blaster? After understanding how to set up for dry ice blasting. You also need to customize a few parameters of the machine to suit your needs and conduct cleaning.


Then, you will need to clean the surface of the car tires in the order from top to bottom, inside to outside, and should not miss any position.


In addition, with this method, garages can also clean the wheel molds easily even the whole car.


Read more: Is it safe to use dry ice blasting for cleaning car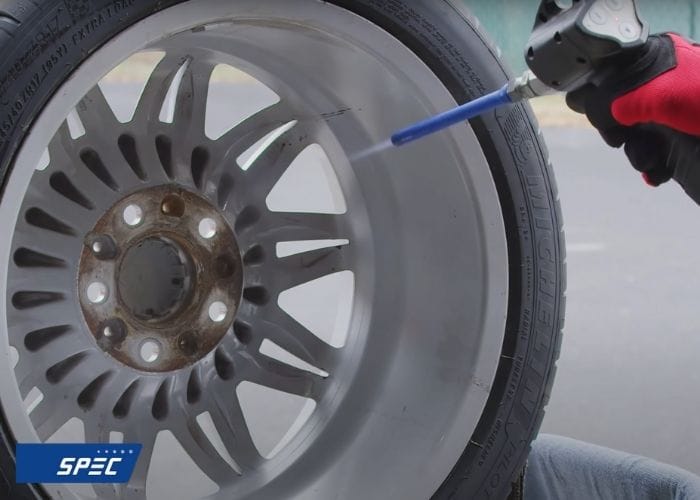 Benefits of using dry ice blaster to clean car tires.


Absolute cleaning: With the technology of using dry ice at high pressure, this CO2 dry ice machine can clean and maximize the surface of the vehicle, even the seemingly impossible dust stains.
Do not use cleaning chemicals: When using a CO2 dry ice machine, you will not need other cleaning chemicals. This keeps you away from potential hazards.
No damage to the surface of the tire: at the molecular size, dry ice can clean the surface of the tire as much as possible, keeping the tire at a safe level.
Environmentally friendly: the dry ice blaster is environmentally friendly because this technology does not leave any secondary waste. Besides, by using CO2 dry ice (made from recycled CO2), no CO2 will be released into the atmosphere.


Some dry ice blaster that can be used to clean tires


SPECCo2 Aero2 PCS 60


Aero2 PCS 60 of SPECCo2 is designed to give users full control using SPECCo2's patented Particle Control System (PCS), which allows users to customize dry ice firing parameters. Besides, the dry ice will also be cut into diamond-shaped particles to the exact size selected by the operator (from 0.3mm to 3mm).


Some advantages of the PCS 60 series:


Performance changes industry. The blast stream is consistent and pulse-free.
Intuitive screen. Easily view and control blasting parameters and machine settings on the 7" color LCD display.
Full control provides a level of precision and flexibility even at a distance..
Programmable applications. The user can set and save application formulations (burst pressure, particle size, feed rate), thereby ensuring the most efficient use of materials and preventing errors during operation.
Ergonomics. The machine is designed to optimize and combine materials, reducing weight and size with redesigned bellows for greater flexibility and durability.
Lower noise level and effective cleaning at lower blowing air pressure.
IoT capabilities for remote monitoring and diagnostics with the industry's first SPECCo2 CONNECT.


PCS 60 is IoT enabled through SPECCo2's 4.0 technology solution, SPECCo2 CONNECT®. The system provides remote monitoring and diagnostic capabilities.
Icetech Elite 20
SPECCo2 Icetech Elite 20 is a versatile, heavy duty dry ice blaster that can be used for light, medium up to tough applications with low dry ice consumption. With 3/4" blasting hose, the Elite 20 is an ideal solution for cleaning more demanding surfaces.
Elite 20 Advantage and Features:
Durable Stainless steel frame is built for durability and reliability.
Easy-adjusting Dosing System Control dry ice dosage with ease.
Insulated Lid and Hopper Ensures minimal dry ice sublimation and a consistent, uninterrupted cleaning.
User Friendly Control Panel Easily control blasting parameters.
Feed Rate: 1.1-3.7 lbs/min (0.5-1.7 kg/min)
Air consumption: 25-353 CFM (0.7-10 m³/min) at PSI ( bar)
Blast Pressure: 29-232 PSI (2-16 bar)
Conclusion


The best solution for cleaning car tires today that Specco2 recommends for garages/ car workshops is to use a CO2 dry ice blasting machine. With the benefits of quick, efficient, and environmentally friendly cleaning, garages can improve their labor productivity as well as make cleaning more convenient.


If you want to find out more about the dry ice blasters for industrial cleaning purposes, Specco2 team is available to support you 24/7.