For coffee processing and manufacturing factories, coffee roaster cleaning is is a very important periodic activity to ensure the flavor of coffee beans, product quality and also for smooth equipment operation. With Specco2, your machine will be ultraclean with our optimal cleaning dry ice method that has many outstanding features. Let's learn how to clean coffee roaster with dry ice blaster with this article below.


Read more: What is dry ice blasting machine ?
Why we need to clean cofee roaster periodically


For coffee processing and manufacturing factories, Coffee roaster cleaning is is a very important periodic activity to ensure the flavor of coffee beans, product quality and also for smooth equipment operation

Besides, the cost of coffee roasters usually range from a few million to hundreds of millions Vietnam dong (VND) depending on their size and usage. Therefore, cleaning the coffee roaster is crucial to:


Safety guaranteed: Coffee oil and chaff tray secreted and accumulated during the roasting process are very easy to ignite, which can lead to an explosion in the roasting area. By cleaning regularly, business owners can prevent this from happening.
Food hygiene and roasted coffee beans's quality ensured: The cooling tray containing the roasted beans may look clean on the surface, but underneath often accumulates coffee oil and chaff trays. This can clog the tray's air vent, obstruct airflow, and the residual heat will affect the flavor of the coffee.
Increase machine's life prolongevity and ensure efficient operation: Regular cleaning helps the coffee roaster not to build up residue and detect technical problems in time for repair and replacement. Thereby, keeping the machine clean, shiny and working well.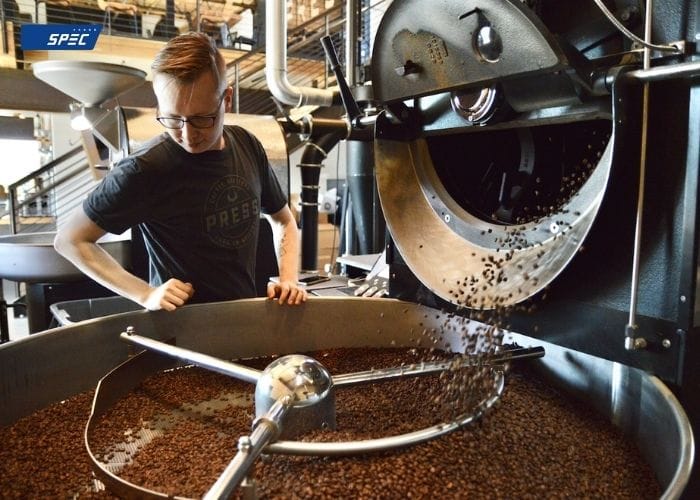 Common problems of coffee roasting machine


Coffee roasters after a period of usage will also appear certain damages. Some of the most common problems include:


In coffee factories, when the coffee roaster is operating at full capacity, a small amount of coffee beans will fall out through the roasting drum. Business owners are advised to do regular cleaning to detect this situation early, if any.
The roasting drum does not operate smoothly and efficiently, possibly due to a lack of machinery grease. Furthermore, this part will also be corroded as we used, making the coffee not evenly exposed to the heat emitted. Resulted in reducing quality and flavor of coffee.
The thermostat is inefficient or damaged due to the maintenance staff not turning off the power after use or setting the temperature beyond the manufacturer's specifications


Coffee roaster cleaning procedure


Roasting machines are very diverse in size and cost, so the maintenance method also varies depending on the type of machine.


If you are a new buyer, you may want to contact the manufacturer or technician for more detailed instructions on how to clean the coffee roaster to to prevent arising unexpected problem.


Conversely, if you already know your roaster, plan its maintenance based on the activity log and timer.


In general, the cleaning process of a roaster consists of 3 main steps:


Maintenance stage


Ensuring the circulated air flow is always a top priority in the maintenance stage as it determines the taste and quality of coffee beans.


If you like your coffee roasted with a strong flavor, please make sure the air flow is good. Check the dust/chaff collectors and the cooling tray/tank. These are the places where coffee dust, silver skin or even coffee oil can easily accumulate. These accumulations cause blockage the ventilation holes and prevent the air flow.




In addition, you will also need to keep an eye on the ventilation system and also the bearing component. Use lubricating oil for these parts to keep them running smoothly.


But if you have to lubricate many times, you will need a technician to inspect it for you because conventional machines do not need to be lubricated that often.


Cleaning stage


Deep cleaning of each separate component of the coffee roaster is essential. If you leave it on for too long, layers of dust and coffee oil will accumulate and stick to the surface of the device.


Over time they will become more sticky and really hard to get off. Besides, the cleaning stage also depends on the intensity and productivity of the business owner's roasting machine.


For some factories, regular cleaning is necessary but for others it can be every 2 to 3 months.


Also, don't forget to check the clefts for coffee beans that may fall out and get stuck inside them.


Clean the cooling tray, fan blades, dust collector, cyclone, bath pole, roasting drum, etc. that accumulate oil and debris from roasting to keep the machine running efficiently and effectively.


After about 2000 hours of use, you will need to replace the arbor and check the burner and touch panel once a year.


For the remaining parts


Every week, check the air pipes to ensure the air flow. By doing this businesses can easily detect signs of leaks or airflow blockages and promptly repair them.


Every month, clean inside the body along with other parts such as: the destoner, the green loader.


Every year, inspect the fume incinerator or the afterburner system. And don't forget to comply with food safety regulations by cleaning the contact surfaces that coffee beans went through to reduce the danger due to the roaster often emitting high heat sources.


Some signs to watch out for in a coffee roaster


When using a coffee roaster, pay attention to the unusual signs that occur because it will easily lead to big troubles and often cost you a lot of money.


Signs you need to watch out for:


Unusual noise: The machine is operating stably, but suddenly there is an abnormal noise? Most likely due to 2 common reasons caused by bearings and roasting drums. When you encounter this situation, please quickly contact a technician so they can check and repair today, don't keep using and wait until tomorrow.
Changes in roasting performance: You will be able to easily detect when the roasting performance changes through the batch of roasted coffee beans. If one day the noise generated from the roasting process sounds longer, it could also be a sign there's a problem with the airflow or the burner of the machine.


Cleaning coffee roaster with dry ice blasters


Working principle of dry ice blasting


Dry ice is the solid form of CO2 and is used for a variety of purposes; in this case, it mainly serves the purpose of washing and cleaning machines and engines.


Dry ice comes in many shapes and sizes and is created by liquefying carbon dioxide and pumping it into a storage tank. Here, CO2 is solidified at -109 degrees F and turned into a solid form.


Cleaning the coffee roaster with dry ice is extremely effective. This process can clean all equipment, giving it a new look, and is extremely eco-friendly. Futher more, dry ice cleaning have been documented by the Food Standards Agency to effectively decontaminate surfaces of Salmonella, E.coli and Listeria.

Put 2-3 bowls of dry ice into the dry ice cleaning machine and then blast it on the parts in the engine that need cleaning, even the hard-to-reach places.
The soft dry ice is accelerated by compressed air through specially designed nozzles at supersonic speeds and collides with the surface of equipment, dislodging stubborn plaque and dirt on the engine surface.


When the dry ice is blasted out, it will change from solid to a gas, with a blowing pressure of 20-300 PSI at a very low temperature (about -70 degrees Celsius), so it can freeze dirt and grease, easily knocking them out and creating small explosions. You can rest assured that throughout the process, the surfaces will not be damaged and will also leave no residue.


Benefits when using dry ice blaster to clean coffee roaster


With Specco2's dry ice blasting machine, the cleaning process will become extremely convenient with easy steps to begin with. Ensure you a roaster with good working and a shiny new look.


Outstanding advantages when you use Specco2's dry ice blasting to clean the coffee roaster:


Superior cleaning without leaving debris or secondary waste after use
The machine is non-abrasive so it won't wear or damage the device's surface.
Removes stubborn stains with ease, leaving a shiny, spotless look.
Clean ultra faster without consuming resources and manpower, shortening machine downtime.
Environmentally friendly. There's no need to use chemicals and detergents.
Small, hard-to-reach surfaces can be reached with low surface tension, allowing for better and more thorough cleaning.


Specco2 offers a wide of variety of dry ice blasting to clean your coffee roaster


SPECCo2 Aero2 Series


The SPECCo2 Aero2 Series is the most efficient dry ice blasting available on the market. They are truly intelligent machines that enable you complete control, even when far away.


Aero2 PLT 60


SPECCo2 Aero2 PLT 60 is designed for applications that require more robustness, making it the most efficient dry ice machine available.


With the SureFlow feeding system, it not only helps users to minimize air pressure loss, but also maximizes air supply capacity and limits dry ice waste. In addition, the Aero2 PLT 60 features a 7" LCD display with digital controls, providing an intuitive display that allows the user to easily view, program or adjust the firing parameters. dry as well as install the machine. Such as setting and saving burst pressure and feed speed parameters.


PLT 60 is IoT enabled through SPECCo2's 4.0 technology solution, SPECCo2 CONNECT®. The system provides remote monitoring and diagnostic capabilities.


SPECCo2 Aero2 PCS 60


Aero2 PCS 60 of SPECCo2 is designed to give users full control using SPECCo2's patented Particle Control System (PCS), which allows users to customize dry ice firing parameters. Besides, the dry ice will also be cut into diamond-shaped particles to the exact size selected by the operator (from 0.3mm to 3mm).


Some advantages of the PCS 60 series:


Performance changes industry. The blast stream is consistent and pulse-free.
Intuitive screen. Easily view and control blasting parameters and machine settings on the 7" color LCD display.
Full control provides a level of precision and flexibility even at a distance..
Programmable applications. The user can set and save application formulations (burst pressure, particle size, feed rate), thereby ensuring the most efficient use of materials and preventing errors during operation.
Ergonomics. The machine is designed to optimize and combine materials, reducing weight and size with redesigned bellows for greater flexibility and durability.
Lower noise level and effective cleaning at lower blowing air pressure.
IoT capabilities for remote monitoring and diagnostics with the industry's first SPECCo2 CONNECT.


PCS 60 is IoT enabled through SPECCo2's 4.0 technology solution, SPECCo2 CONNECT®. The system provides remote monitoring and diagnostic capabilities.


Elite 20


The Elite 20 is a versatile, heavy duty dry ice blaster that can be used for light, medium up to tough applications with low dry ice consumption. With 3/4" blasting hose, the Elite 20 is an ideal solution for cleaning more demanding surfaces.
Elite 20 Advantage and Features:
Durable Stainless steel frame is built for durability and reliability.
Easy-adjusting Dosing System Control dry ice dosage with ease.
Insulated Lid and Hopper Ensures minimal dry ice sublimation and a consistent, uninterrupted cleaning.
User Friendly Control Panel Easily control blasting parameters.
Feed Rate: 1.1-3.7 lbs/min (0.5-1.7 kg/min)
Air consumption: 25-353 CFM (0.7-10 m³/min) at PSI ( bar)
Blast Pressure: 29-232 PSI (2-16 bar)
In conclusion


Cleaning the coffee roaster is a tedious work that requires high accuracy. This task needs to be done periodically to ensure the safety of the user as well as the quality of the roasted coffee beans. With Specco2's dry ice blasters, stains are easily removed in a short time without leaving behind any secondary waste. It is cost-effective, eco-friendly and and makes sure your coffee roaster runs smoothly.


If you want to find out more about the dry ice blasters for industrial cleaning purposes, Specco2 team is available for support you 24/7.