After a period of use, the appearance of mold or stains in cold storage is inevitable, which will affect the quality of the preserved product.

Therefore, the cleaning of cold storage for preserving supplies like food and vaccine or medicines is extremely important.

Besides using traditional cleaning tools for cold storage rooms, Specco2 recommend using dry ice blasters to make the cleaning of cold storage easier and more efficient


The following article will help you to know how to clean cold storage with dry ice blaster.
Read more: What is dry ice blasting machine ?


Schedule for cold storage cleaning


To ensure that the cold storage is cleaned periodically and absolutely safe, you should divide work items based on the cleaning schedule: daily, weekly, and monthly cold storage cleaning.


Daily cleaning


Some tasks that need to be done when cleaning cold storage daily are:


Check to see if there are chemicals or products that are leaking
Check if the cold storage temperature is suitable for the product you are storing
Check the evaporators for ice buildup
Check compressors for oil leaks in cold storage
Check gas level in cold storage


Weekly cleaning


Check the cold storage door seals and make sure that there are no cracks and general signs of wear
Thoroughly clean the surface of the floor with suitable products
Neatly arrange the products after cleaning


Monthly cleaning


Adjust the temperature of the cold storage
Check the remaining suitable temperature when the cold storage module is full
Cleaning the radiators
Check the control valves for full operation
Check defrost function
Check the entire system to make sure cold storage continues to operate stably


How to remove mold in cold storage


Places where mold often appears in cold storage
Mold can completely grow in cold storage due to the impact of moisture in the air and they stick, accumulate on the wall, causing mold.
Another reason for mold to form is due to the carelessness of employees when they do not close the cold storage door or there are any cracks in the cold storage.
Therefore, the weekly job of workers is to check cold storage thoroughly. Some places workers should check:
Check door seals and crevices in cold storage
Check the cold storage vent for stable operation
Inspect and discard damaged products or materials


How to clean cold storage in traditional way


Step 1: Use a broom or a vacuum cleaner, a floor cleaner to clean the floor of the cold storage. This will help the floor become cleaner.
Step 2: When encountering stubborn stains, depending on the status of the cold storage, you can choose cleaning chemicals. However, it is necessary to choose mild cleaning chemicals to avoid causing damage to cold storage.
Step 4: Inspect and remove damaged products, which may be the cause of bacteria in cold storage
Step 5: After cleaning, you need to make sure that the floor of the cold storage is completely dry. Otherwise, freezing will occur, causing slippery and danger for workers while working.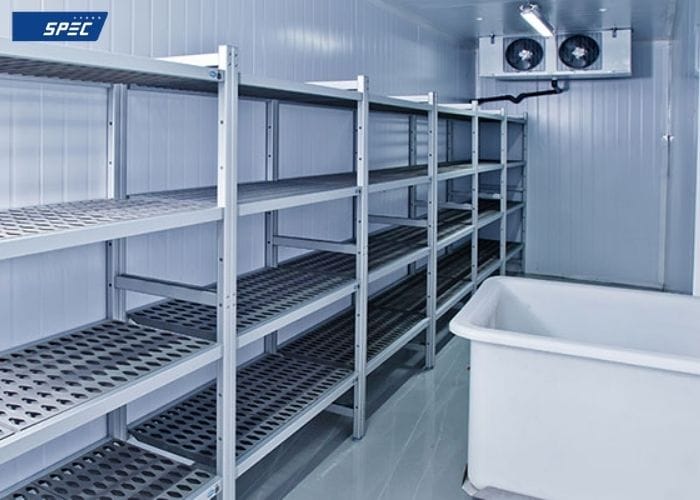 What to prepare before cleaning cold storage traditionaly


Tools and equipment


Normally when cleaning cold storage, here are some equipment and tools that you need to prepare

Floor cleaning: Broom, vacuum cleaner
Cleaning stubborn stains: mild cleaning chemicals or baking soda
For mold removal: dry ice blaster
For deodorizing: Deodorizing chemicals for cold storage


For employees who perform cold storage cleaning


Besides using tools and equipment for cleaning, the workers themselves must also meet the necessary conditions to be able to clean the cold storage. Some of the requirements for workers are:


Stable health
Understand cleaning operations and procedures
No infectious diseases during working time
Equip labor protection equipment when cleaning cold storage such as gloves, helmets, goggles, …


Benefits when using dry ice blaster to clean cold storage


Dry ice blaster is a great tool for cold storage cleaning and mold removal. Not only that, dry ice blaster can be used for many applications such as cleaning machines, equipment or cleaning factories.


This equipment uses dry ice as the main material. Dry ice blasting machines are an environmentally friendly solution because dry ice is produced from recycled CO2 and they do not release carbon into the environment.


More specifically, some of the benefits of using a dry ice blasting machine to clean cold storage are:
Absolute cleaning: With technology that uses dry ice at high pressure, this CO2 dry ice machine can clean and maximize the surface of hard-to-reach nooks , even stains, long-term residue on the surface
Do not need to use cleaning chemicals: When using a CO2 dry ice machine, you will not need other cleaning chemicals. This keeps you away from potential hazards.
No damage to the surface of the cold storage: at the molecular size, dry ice can clean the surface as much as possible.
Environmentally friendly: because this technology does not leave any secondary waste. Besides, by using dry ice (made from recycled CO2), no CO2 will be released into the atmosphere.


Model of dry ice blasters can be used for cleaning cold storage


Aero2 PCS 60


Aero2 PCS 60 is designed to give users full control using SPECCo2's patented Particle Control System (PCS), which allows users to customize dry ice firing parameters. Besides, dry ice will also be cut into diamond-shaped particles according to the size selected by the operator (from 0.3mm to 3mm).


Some advantages of the PCS 60 series:


Performance changes industry. The blast stream is consistent and pulse-free.
Intuitive display, easy to view and control burst parameters on 7" LCD screen.
Full control provides a level of precision and flexibility even at a distance.
Applications (burst pressure, particle size, feed rate) programmable; ensure the most efficient use of materials and prevent errors during operation.
The machine is ergonomically designed. Optimizing and combining materials, reducing weight and size together with redesigned bellows provides greater flexibility and durability.
Reduces noise and cleans effectively at lower blowing air pressure.
IoT capabilities for remote monitoring and diagnostics with the industry-first SPECCo2 CONNECT.


Icetech Xcel 6


Icetech Xcel 6 is designed to provide a reliable cleaning solution with minimal air requirements
Evolve the way you clean your equipment with the enhanced Xcel 6. Designed with advanced operating principles, the Xcel 6 maintains a smooth cleaning performance while enhancing dosing disc operation. With a small footprint and a stainless steel frame, this compact dry ice blaster is designed to provide a reliable cleaning solution with minimal air

Durable Stainless steel frame is built for durability and reliability.The i³ MicroClean 2 offers an intuitive display with a 7-inch LCD screen and digital controls.
Easy-adjusting Dosing System Control dry ice dosage with ease.
Insulated Lid and Hopper Ensures minimal dry ice sublimation and a consistent, uninterrupted cleaning.
User Friendly Control Panel Easily control blasting parameters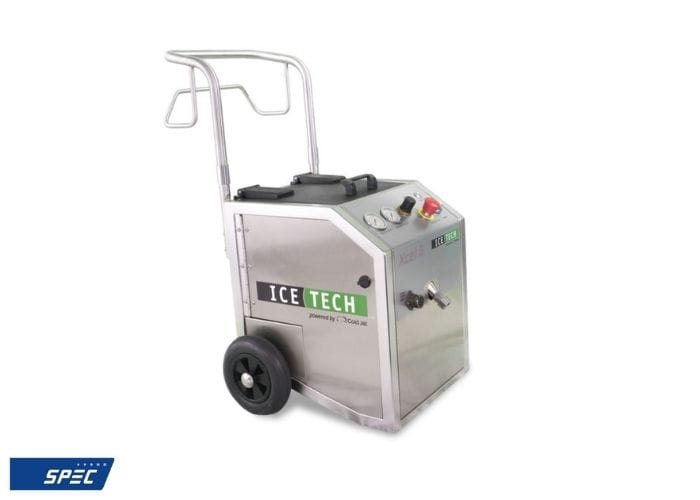 Conclusion


It can be seen that cold storage cleaning is a process that needs to be carried out strictly, thoroughly and carefully. Besides, choosing the right tools and equipment for maintenance and cleaning work will also help businesses save a lot of costs as well as bring long-term effectiveness.

"Specco2 recommend you should try using dry ice blaster for reducing cleaning time as well as longevity protection for cold storage.