Using dry ice machines to clean car engine compartments has now been applied by garages as well as car manufacturing companies widely

However, this method is still uncommon to many people.


Some are concerned about safety while others worry about whether or not it does an adequate job.


So, is dry ice cleaning good for entire car not just engine compartments?

In this article, Specco2 will look at all sides of the story and give you an answer that's easy to understand.


Why you should clean your car periodically


Cleaning your car regularly will help to keep it running smoothly.


In addition to that, there are some great benefits from periodic car cleaning, such as:


Safe vehicle operation


While driving, safety is always a top priority.


Not only to protect yourself but also to protect those around you.


You should regularly clean your car for inspection if something wrong happens.


If you do not clean your car, stains and grease will form deposits on the body of the car.


Furthermore, they will stick to the engine compartment and make the vehicle unstable while en route. In some cases, it can even cause a fire.


Keeping the value of the car


Cleaning your car regularly will help you keep your car's value from rapidly depreciating.


Over time, the value of the car will decrease depending on the distance as well as the appearance of the car.


Therefore, cleaning the car will help keep the car's appearance in like-new condition.


Avoid rusty condition


As mentioned above, stains from dust, soil, and oil that stick on the car body for a long time will form rust marks if you do not handle them thoroughly.


This affects not only the aesthetics of the vehicle but also the safety of those driving it.


Is dry ice cleaning safe for car ?


At the present time, there are many solutions to cleaning cars. However, with our experience, Specco2 recommends using a dry ice blasting machine to clean cars because dry ice blasting:


Is non-abrasive and will not damage equipment
Is non-flammable and water-free
Produces no secondary waste
Safe and non-toxic
The dry ice blasting machine is not only safe, but it also helps to make your car become brand new like the first time you buy it.


Dry ice blaster is a cleaning device that uses dry ice and compress air at high pressure, often used to clean machinery and equipment, mold maintenance or maintain production lines.


Not only widely applied in the industrial field, dry ice blaster is also applied in preserving architectural works, historical destinations, or removing old wall paint.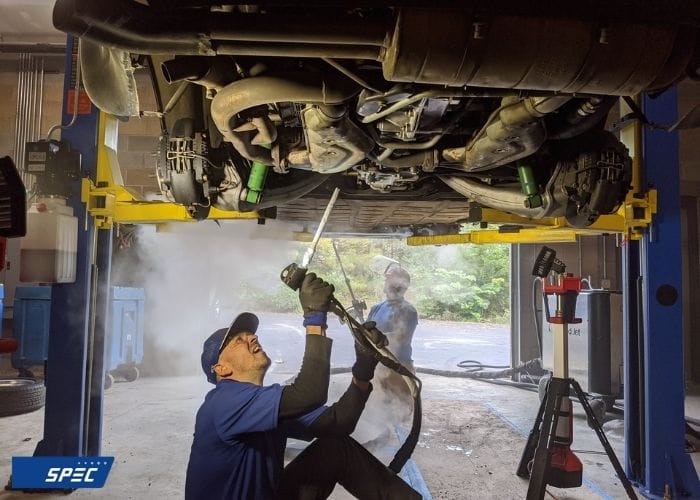 Other benefits when cleaning car with dry ice blasting


When using a dry ice blasting machine to clean your car, you will notice the following benefits:


Absolute cleaning: this dry ice blaster can clean and maximize the surface of the vehicle, even the most annoying stains, and oils.
Do not use cleaning chemicals: When using dry ice blasting machine, you will not need other cleaning chemicals. This keeps you away from potential hazards. However, you also need to know how to set up dry ice cleaning machine for safer use.
No damage to the surface of the car: at the molecular size, dry ice can clean the car's surface as much as possible without causing damage to the exterior paint. However, to ensure that the paint is not affected, you need to adjust a few necessary parameters before cleaning.
Environmentally friendly: the dry ice blaster is environmentally friendly. In addition to being clean and safe, it is also important to remember that dry ice is obtained as a byproduct of other industrial processes – i.e. it is made from reclaimed CO₂. It does not produce CO₂ or add CO₂ to the atmosphere and therefore does not contribute to the greenhouse effect.


Some models of dry ice blasters to clean your car


Cold Jet Aero2 PCS 60


Cold Jet Aero2 PCS 60 is a product of Cold Jet's dry ice blaster, belonging to the Aero2 Series , this machine is considered one of the best dry ice blaster on the market today.


In addition, with this dry ice blasting machine, users are free to customize the size of dry ice to suit their needs. (from 0.3mm to 3.3mm)


Besides, this machine is compactly designed and supports 7" LCD screen, giving users a more intuitive view and easier to use.


I3 MicroClean 2


I3 MicroClean 2 is a dry ice blaster manufactured by Cold Jet, belonging to the MicroParticle Series.


This is also the latest and most modern product of Cold Jet, launched in 2021.


Since its launch, this machine has shown its effectiveness in cleaning equipment and machines.


This machine is designed to save 25% more than the previous generation product, i3 MicroClean.


In addition, i3 MicroClean 2 also has very high security and great features such as adjusting the dry ice particle size, application pressure or other parameters.


Conclusion


In case you need any assistance with dry ice or buy yourself a CO2 dry ice blasting machine, Specco2 is always ready to support you 24/7.