The dry ice blasting machine is used to clean the surface of many production equipment, especially the stains on the surface of the injection mold in the manufacturing industries. In addition, the dry ice machine is also used for maintenance and general cleaning of factories and workshops. With such a powerful cleaning ability, can the dry ice machine clean sensitive items such as electronic devices? Specco2 will answer your questions in the article below
What is dry ice blasting machine?
A dry ice blasting machine is a device that removes impurities from surfaces by blasting them with dry ice. A dry ice blaster can be used to remove undesirable coatings such as rust or paint from various surfaces. Simply defined, dry ice blasting equipment uses compressed air and dry ice pellets to clean a surface.
It is a nonabrasive cleaning method. This cleaning process has been approved by the FDA, USDA, and EPA and has been used successfully for industrial and commercial cleaning. Furthermore, the dry ice cleaning method does not need disassembly, and relocating the equipment makes the procedure more comfortable.
Can dry ice blaster clean electric components
The dry ice blasting machine can be used to fully clean devices. Because you may tailor a variety of features to your own requirements while utilizing this equipment. You may change the amount of dry ice that shoots out, the size of the dry ice, the compressed airspeed, and so on.
Furthermore, when dry ice collides with the surface of electronic components, it instantly evaporates and leaves no traces, which will greatly assist you in cleaning the device.
Benefits of dry ice blaster when cleaning electric components
Saving time
If traditional cleaning procedures have restrictions and shortcomings, the dry ice blasting machine will clean the equipment to the greatest extent possible using modern scientific technology. The combination of kinetic energy and thermodynamics will dissolve the link between the contaminants and the device surface, allowing stains to be removed in a single application.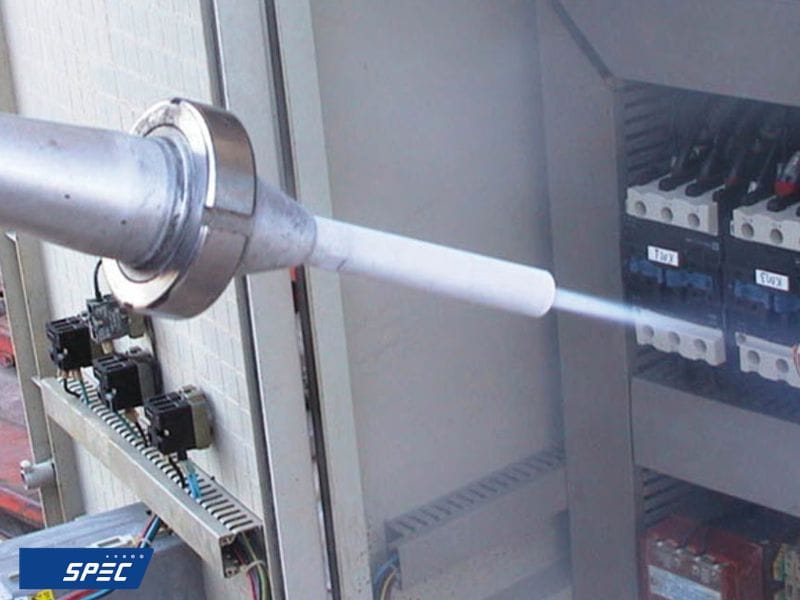 Dry ice blaster will not harm the environment or add to the greenhouse effect when used with these devices due to their recycling capability.
Another benefit is that when dry ice collides with water, it sublimates, or changes from solid to gas and evaporates. As a result, you will have maximum cleaning equipment even when in operation, with no secondary filth. Cleaning time can be reduced by up to 75% when compared to traditional techniques.
Non-abrasive and damage-free to device's surface
Dry ice has a hardness rating of 1.5 – 2 on the Mohs scale. As a result, it is regarded as a highly gentle medium capable of cleaning most surfaces without abrading or harming them while yet being strong enough to remove years of deposits off production line gear.
This is a significant benefit over traditional cleaning procedures like sandblasting or washing with chemicals, which would wear out machinery over time.
Maintain machine productivity
You won't have to spend time dismantling and reassembling the equipment because a dry ice blasting equipment can clean hard-to-reach cracks and angles. Furthermore, the dry ice blasters allow you to clean the electric equipment directly while it was still hot and operational.
This reduces downtime, improves production efficiency, and promotes business growth. Furthermore, because the dry ice blasting machine only takes one person to operate, you will save money, effort, and manpower.
No secondary waste
The dry ice blasting machine will use dry ice at supersonic speeds. Dry ice sublimates when it comes into contact with a dirty surface, changing from solid to gaseous and eventually vaporizing. This makes cleaning exceedingly easy and flawless, as there is no secondary waste and the cleaning environment is fully dry and moisture-free.
This is one of the major benefits because traditional cleaning methods such as water, chemicals, and sand… produce secondary trash and dangerous chemical mixes on the floor. As a result, secondary trash disposal after cleaning might be time-consuming to handle and clean up.
Environmentally Friendly
Dry ice is a colorless, odorless media created as a by-product of other industrial processes; then collected and recycled. Because of its recycling feature, dry ice blaster will not affect the environment nor contribute to the greenhouse effect when used with these machines. It is also an EPA, USDA, and FDA-approved material thanks to its non-toxic, non-hazardous characteristic and is approved to use around food.
Types of dry ice blaster to clean electric equipment
I3 MicroClean 2
SPECCo2 I3 MicroClean 2 is an upgraded successor from its predecessor – the I3 MicroClean with the following benefits:
Uses dry ice cubes or ice cubes and can operate at speeds as low as 12 cfm (0.3 m³/min) at variable air pressures from 20 to 145 psi (1.4 – 10 bar) .
The i³ MicroClean 2 offers an intuitive display with a 7-inch LCD screen and digital controls.
Super efficient: i3 MicroClean 2 is designed to reduce overall consumptive usage by more than 25% compared to i3 MicroClean.
Using less air pressure, it also produces less noise.
IoT Capabilities: Remote Monitoring with SPECCo2 CONNECT.
Absolute cleaning ability: Deep clean on all-terrain surfaces.

I3 MicroClean
SPECCo2 i³ MicroClean is a compact, lightweight, single-hose low pressure, electric blasting system that utilizes dry ice block with low flow rates of 12 cfm and blocks of ice at variable air pressures from 20 to 140 psi (1.4 to 9.7 bar).
I3 MicroClean's advantage
Efficient Efficiently uses dry ice providing as much as 45 minutes of cleaning before reloading.
Designed for Precision Applications Safely clean delicate surfaces and complex cavities.
Flexibility Adjustable blast pressure allows for flexibility in order to optimize performance.
Low Noise Operation The MicroClean requires less air pressure to operate effectively, resulting in a quieter operation.

I3 MicroClean's features:
Efficiently uses dry ice providing as much as 45 minutes of cleaning before reloading
Single-hose, patented feeder design for maximum blasting aggression
Uses 5″ x 5″ x 10″ (12.7 cm x 12.7 cm x 25.4 cm) or 6″ x 6″ x 12″ (15 cm x 15 cm x 30 cm) block dry ice
Adjustable blast pressure allows for flexibility in order to optimize performance
Internal blast air filter (20 Micron) minimizes the effects of contaminated air
Ergonomic lighted applicator
Durable Urebrade, or flexible silicone, hoses available
Integrated static bonding cable (much more effective than standard grounding cables)
Durable transport/mobility cart
Conclusion
Thus, it can be seen that the dry ice machine can completely clean electronic equipment easily. To learn more about this modern equipment, you can contact Specco2 directly for a free consultation.