Collec'Thor – Fixed waste collector
Your Reliable Ally in

Fixed Waste Collection Solutions!
Managing waste effectively is a pressing concern in our modern world. To address this challenge, we proudly present Collec'Thor, the ultimate fixed waste collector. With its robust design and innovative features, Collec'Thor is redefining waste management and bringing efficiency to urban and commercial spaces. Say goodbye to overflowing bins and unsightly litter – Collec'Thor is here to streamline waste collection and promote cleaner, greener environments. Embrace the future of waste management with Collec'Thor!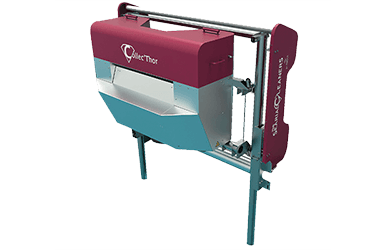 Stop Wondering, Start Cleaning
Collec'Thor - Fixed waste collector
Collec'Thor is a reliable system designed to remove both solid and liquid waste that float on the surface of the water. This silent and effective system is installed either at the water's edge or on floating docks, specifically in areas where marine waste routes have been identified. Collec'Thor operates continuously, quietly attracting waste over a large area and can hold up to 100 kg of waste. With high ergonomic features, it has no waste bag for easy waist-level emptying and cleaning, offering a handle system for easy maintenance. Collec'Thor is a professional solution that ensures a clean aquatic environment for all, and we're confident our system will exceed your expectations.
Collec'Thor

Datasheet
The Specco2 Series
Video about
The Searial Cleaners
Stop Wondering, Start Cleaning
Interested in our
Equipments

?
Our
Latest News
Let's see how dry ice blaster works
Industry
Testimonials
By Applications