In the surface preparation service industry, commonly used machines on the market include dry ice blasters, sandblasters, and laser blasters. However, there is a device that has just been released that is a dust-free toilet. Let's find out with Specco2 about this dust-free pressure cleaning device and the dry ice machine to know how different these two devices are?
What is dustless blasting equipment ?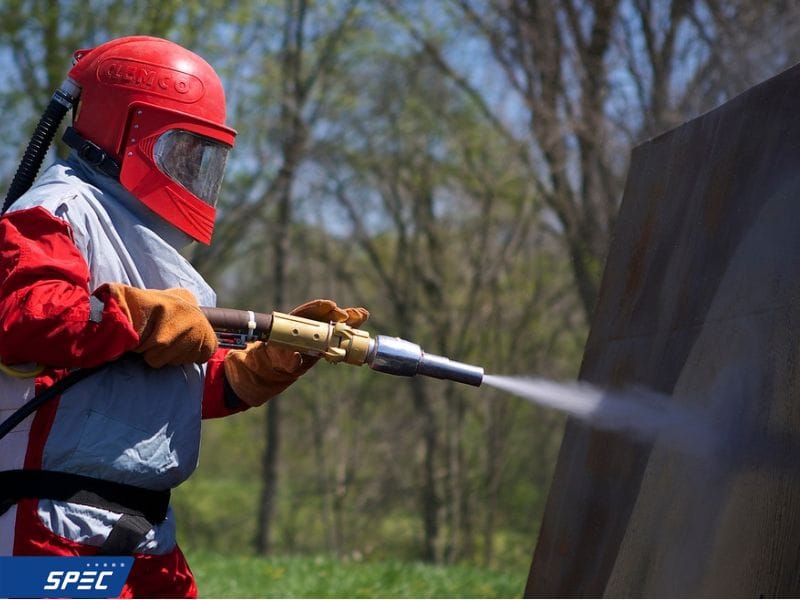 The dustless blasting cleaner uses an abrasive in combination with the water contained in this equipment. Combined with a high-pressure compressed air source, water is ejected and can remove any paint compounds that adhere to the surface of the device.
This equipment is often used in heavy industries and the restoration of old buildings and structures.
However, the biggest drawback of this device is due to the combination of using water and compressed air source with high pressure, this device is not suitable for cleaning small details that require gentleness and meticulousness like electronic device boards. Besides, the safety factor to the operator's health is also a question mark when this equipment requires you to use the right materials to ensure environmental safety.
In addition, although they are considered dust-free devices, there are certain errors and they will emit a small amount of dust into the environment. In the field of cleaning medical equipment as well as the food processing industry, this is a big shortcoming.
What is dry ice blasting ?
Dry ice blasting machine is a non-abrassive equipment that uses dry ice as the main raw material. Dry ice combines with a large-capacity compressed air source and can clean any surface.
The similarity between the dry ice blasting machine and the dustless blasting method is that they can both be applied in heavy industry and construction restoration.
However, a dry ice blasting machine can also be used to clean electronic boards because dry ice is an extremely small material. After coming into contact with the surface to be cleaned, they will automatically fly away and leave no trace. Dry ice also won't damage your business's electronics.
Meanwhile, the dry ice blasting machine is also considered an environmentally friendly device and is safe enough to be applied in the field of cleaning medical equipment and food processing machinery.
In addition, dry ice is approved and used by the EPA, USDA & FDA (U.S Environment Protection Agency, the U.S Food and Drug Administration and the U.S Department of Algriculture.
Some models of dry ice blasting of Specco2
I3 MicroClean 2
SPECCo2 I3 MicroClean 2 is an upgraded successor from its predecessor – the I3 MicroClean with the following benefits:
Uses dry ice cubes or ice cubes and can operate at speeds as low as 12 cfm (0.3 m³/min) at variable air pressures from 20 to 145 psi (1.4 – 10 bar) .
The i³ MicroClean 2 offers an intuitive display with a 7-inch LCD screen and digital controls.
Super efficient: i3 MicroClean 2 is designed to reduce overall consumptive usage by more than 25% compared to i3 MicroClean.
Using less air pressure, it also produces less noise.
IoT Capabilities: Remote Monitoring with SPECCo2 CONNECT.
Absolute cleaning ability: Deep clean on all-terrain surfaces.

I3 MicroClean
SPECCo2 i³ MicroClean is a compact, lightweight, single-hose low pressure, electric blasting system that utilizes dry ice block with low flow rates of 12 cfm and blocks of ice at variable air pressures from 20 to 140 psi (1.4 to 9.7 bar).
I3 MicroClean's advantage
Efficient Efficiently uses dry ice providing as much as 45 minutes of cleaning before reloading.
Designed for Precision Applications Safely clean delicate surfaces and complex cavities.
Flexibility Adjustable blast pressure allows for flexibility in order to optimize performance.
Low Noise Operation The MicroClean requires less air pressure to operate effectively, resulting in a quieter operation.

I3 MicroClean's features:
Efficiently uses dry ice providing as much as 45 minutes of cleaning before reloading
Single-hose, patented feeder design for maximum blasting aggression
Uses 5″ x 5″ x 10″ (12.7 cm x 12.7 cm x 25.4 cm) or 6″ x 6″ x 12″ (15 cm x 15 cm x 30 cm) block dry ice
Adjustable blast pressure allows for flexibility in order to optimize performance
Internal blast air filter (20 Micron) minimizes the effects of contaminated air
Ergonomic lighted applicator
Durable Urebrade, or flexible silicone, hoses available
Integrated static bonding cable (much more effective than standard grounding cables)
Durable transport/mobility cart

SDI Select 60
SPECCo2's SDI Select 60 is designed to be a simplistic, user-friendly, and versatile dry ice blaster. With the ability to shave any dry ice media input through the patented feeder technology, the SDI Select 60 opens new cleaning opportunities for users who experience limited dry ice availability.
The SDI Select 60 can use any Aero blasting machine nozzle or accessory to suit your application's need, and can be as gentle or aggressive as necessary – with blasting pressures ranging from 20 to 250 PSI – covering a wide range of applications in a single machine.
SPECCo2's patented feeder technology creates shaved dry ice on demand, regardless of input. Simply switch to full pellet cleaning to penetrate the most difficult, thick contaminants.
Conclusion
Thus, we can see that although the function of the dry ice machine and the dustless pressure blaster is the same. However, the dry blasting ice machine has a certain advantage that it is capable of cleaning compact equipment that requires lightness such as electronic equipment as well as machines that require high safety such as machinery. manufacture of medical equipment or food processing machinery
To learn more about this optimal device, you can contact Specco2 directly for a free consultation.