Note: Our client has chosen not to authorize the display of their name.


Introduction:
A leading player in the fields of veterinary medicine, aquaculture, and pet nutrition, a company in Binh Duong City, Vietnam, is making waves in the industry. Our client, an international organization with 60 branches globally, this company is committed to providing nutritional and health products for pets, derived from natural sources such as seaweed and clay. With a vision of becoming a leader in Vietnam's veterinary medicine, aquaculture, and animal nutrition sectors, our client has embarked on an ambitious journey, including the establishment of a state-of-the-art factory for animal feed additives in Di An, Binh Duong.


Company Background:
Our client's mission is rooted in harnessing the power of nature to improve animal health and nutrition. Their extensive product range, comprising over 200 lines, is distributed through a vast network spanning 55 provinces and cities, making them a trusted and well-established presence in Vietnam's agricultural and veterinary sectors.


Purpose:
One of the critical objectives of this company is to ensure the safe and efficient handling of temperature-sensitive products, particularly vaccines, within their internal operations. To achieve this, they turned to Olivo insulated boxes and eutectic plates.


Solutions: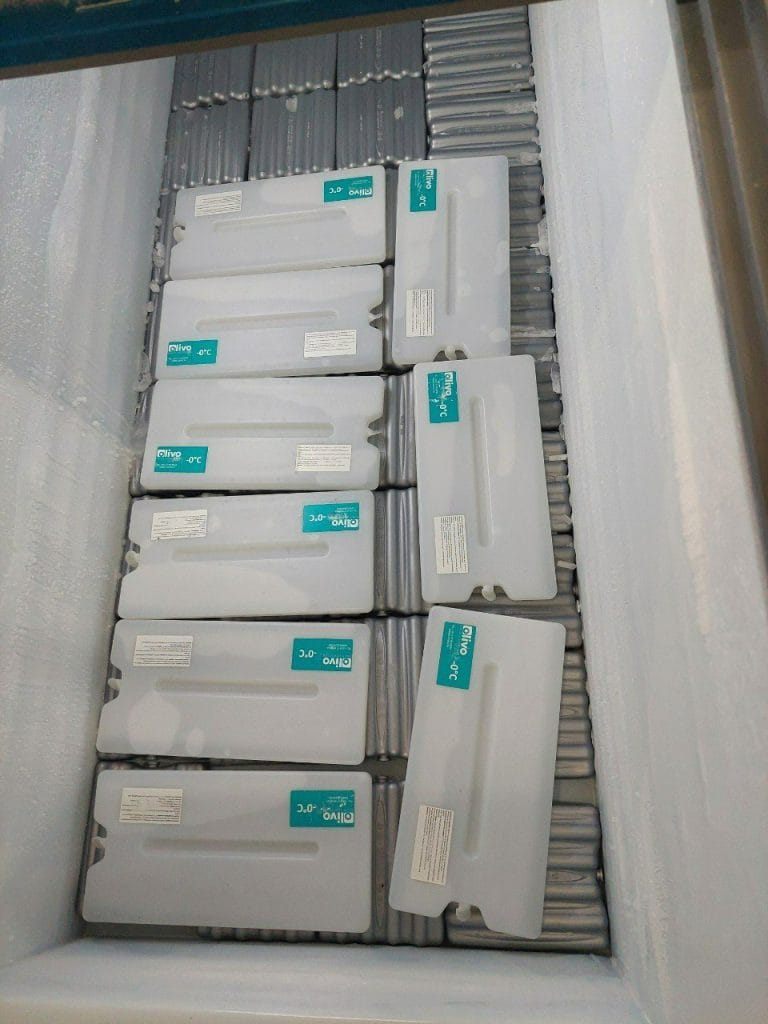 Eutectic plate top 64 -3°C
Characteristic: Aqueous solution
Unloaded weight 1.6Kg with a certain proportion of salt
Material Expanded polypropylene Physical state: Liquid at ambient temperature
Length 364 mm; Width 170 mm; Height 20 mm
Unloaded weight: 1.0 Kg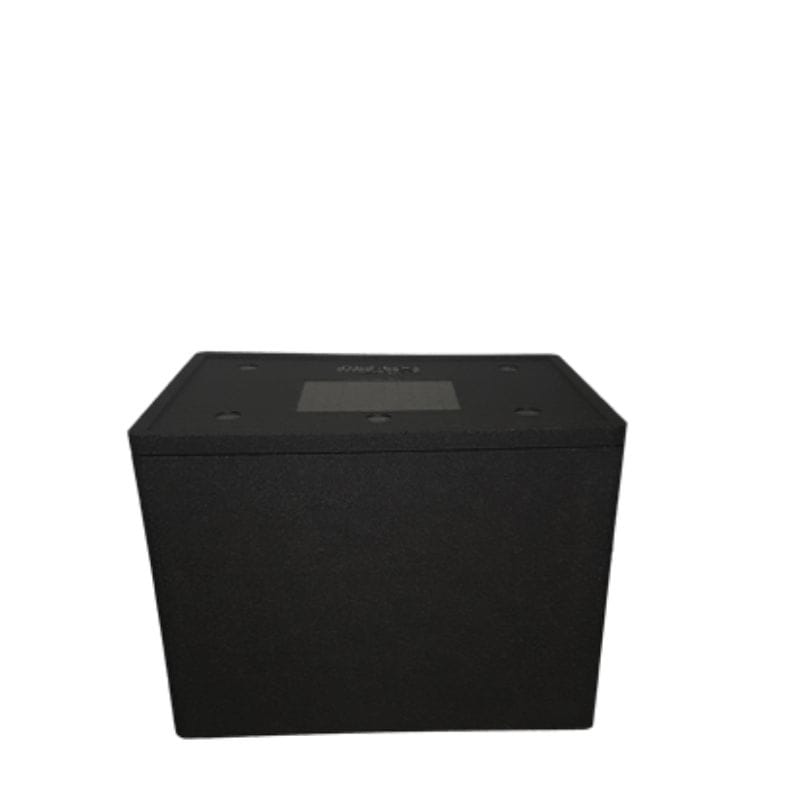 Olivo insulated box 64

Outer dim. in mm (L x D x H)
595 x 395 x 455 mm
Inner dim. in mm (L x D x H) 505 x 320 x 370 mm
Unloaded weight 2.1Kg
Material: Expanded polypropylene


Implementation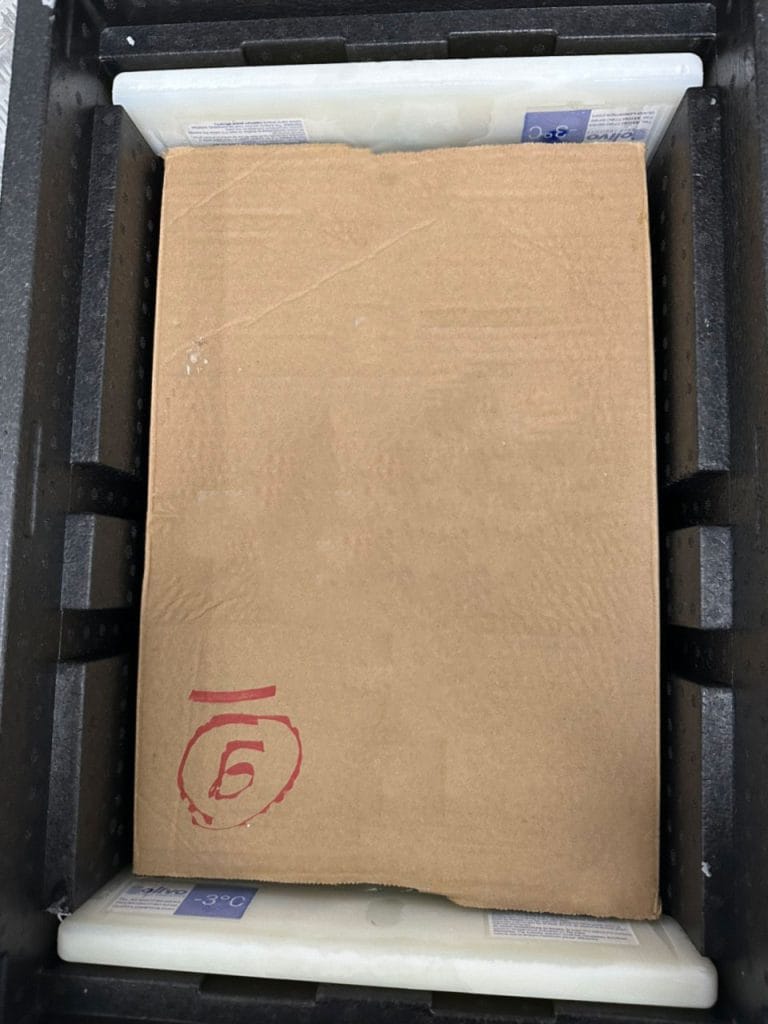 Results
Recording and Tracking Temperature
To further enhance temperature monitoring and quality control, our client decided to incorporate data loggers into the Olivo Insulated Box 64. These data loggers are instrumental in recording and tracking temperature fluctuations during transit, ensuring even greater precision in maintaining the desired temperature range for their sensitive products. This proactive approach allows our client to maintain comprehensive records and gain valuable insights into the performance of their Olivo 64 Insulated Boxes, reinforcing their commitment to product integrity and quality assurance.
To gain the precision and quality control, They have installed ten data loggers, with four strategically placed inside the box to record the fluctuation of products and one positioned externally to track the ambient temperature. These data loggers work in unison to capture precise temperature data, ensuring that the conditions inside the box are meticulously monitored and controlled throughout the entire transportation process.
Feedback:
The experience with Olivo products has been overwhelmingly positive. There has been a high level of satisfaction with Olivo's solutions, primarily due to the exceptional quality and environmentally friendly nature of the products. Notably, Olivo insulated boxes have demonstrated an impressive capability to maintain a stable temperature for nearly 30 hours, ensuring the integrity and efficacy of the vaccines.


Future Investment:
Looking ahead, this company plans to expand their use of Olivo insulated boxes and eutectic plates. They intend to invest in a series of box and plate solutions set at 0°C to conduct long-term testing. This strategic move reflects their commitment to continually improving their operations, safeguarding product quality, and embracing sustainable practices.


Conclusion:
This case study underscores the transformative potential of innovative solutions in the agricultural and veterinary sectors. As they continue to invest in Olivo insulated boxes and eutectic plates, they are not only elevating their internal operations but also contributing to the broader goals of quality assurance, environmental responsibility, and excellence in animal health and nutrition.