Dry ice blasting machine is an optimal industrial cleaning equipment, often used in heavy manufacturing industries. For the production of products from plastics and composites, the dry ice machine does not cause damage to the production equipment or to the final product. Find out with Specco2 why the dry ice blasting machines take no damage to product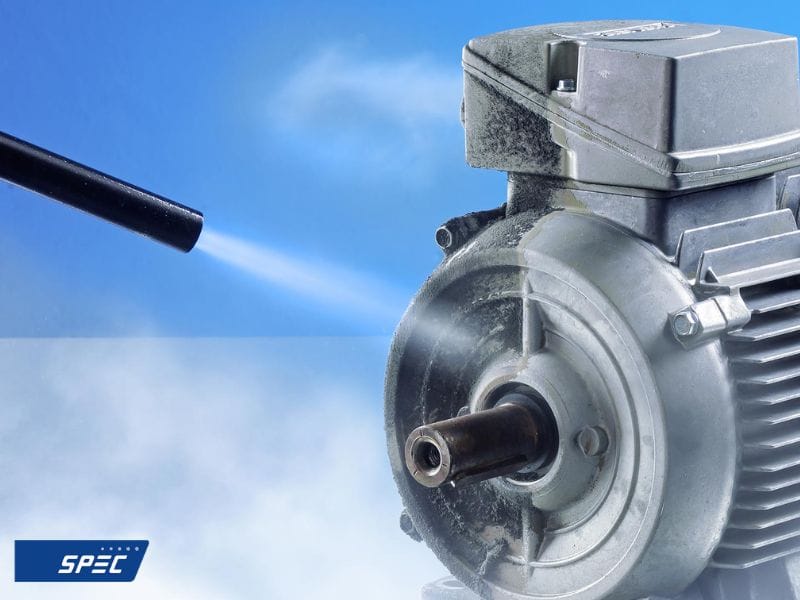 The application of dry ice blaster
The dry ice blasting machine is an extremely special product that can be cleaned and sanitized on any surface. Because of that great use, dry ice machines are often used in the industrial field. In foreign countries, some construction or civil engineering cleaning units also use dry ice blasting machines to clean wooden surfaces or perennial works.
In Vietnam, dry ice blasting machines are widely used in industrial production or mold production, especially in the production of plastic and composite materials.
The dry ice blasting machine uses dry ice to clean the surface of the equipment to be cleaned. Dry ice is produced by freezing CO2 at a temperature of -78.5 degrees Celsius and stored in a suitable insulated containers.
How dry ice blasting works
As mentioned above, the dry ice blasting machine will use dry ice as the main material for cleaning. When dry ice is fired at supersonic speed, they will dislodge stains on the surface of the device.
After the dirt is removed from the surface of the device, the dry ice immediately evaporates, leaving no secondary waste.
Why dry ice blasting is non-abrasive ?
The reason that the dry ice machine does not damage the surface of the device is because when the dry ice collides with the surface to be cleaned, it immediately evaporates. On the other hand, dry ice is an extremely light material and can easily evaporate if the impact is strong enough at an extremely high
In addition, the dry ice machine also uses an external compressed air supply to accelerate the firing rate of dry ice. This makes dry ice safe against any surface.
Types of non-abrasive dry ice blasters
Aero2 PLT 60
Built on ground-breaking Aero2 technology, the PLT 60 is designed for applications that require more robustness, making it the most efficient dry ice machine available. This machine is enabled through SPECCo2's 4.0 technology solution, SPECCo2 CONNECT which provides remote monitoring and diagnostic capabilities.
With the SureFlow feeding system, it not only helps users to minimize air pressure loss but also maximizes air supply capacity and limits dry ice waste. In addition, the Aero2 PLT 60 features a 7" LCD display with digital controls, providing an intuitive display that allows the user to easily view, program or adjust the firing parameters. dry as well as install the machine. Such as setting and saving burst pressure and feed speed parameters.
Aero2 PCS 60
The Aero2 PCS 60 is designed to give users full control using SPECCo2's patented Particle Control System (PCS), which allows users to customize dry ice firing parameters. Besides, the dry ice will also be cut into diamond-shaped particles to the exact size selected by the operator (from 0.3mm to 3mm).
Some advantages of the PCS 60 series:
Performance changes industry: The blast stream is consistent and pulse-free.
Intuitive screen: Easily view and control blasting parameters and machine settings on the 7" color LCD display.
Full control provides a level of precision and flexibility even at a distance..
Programmable applications: The user can set and save application formulations (burst pressure, particle size, feed rate), thereby ensuring the most efficient use of materials and preventing errors during operation.
Ergonomics: The machine is designed to optimize and combine materials, reducing weight and size with redesigned bellows for greater flexibility and durability.
Lower noise level and effective cleaning at lower blowing air pressure.
IoT capabilities for remote monitoring and diagnostics with the industry's first SPECCo2 CONNECT.
PCS 60 is IoT enabled through SPECCo2's 4.0 technology solution, SPECCo2 CONNECT. The system provides remote monitoring and diagnostic capabilities.
Conclusion
It can be seen that dry ice and dry ice blaster is an extremely safe material and device to clean the surface of equipment in the plastics and composites industry. This device does not cause damage to the surface of the device and the product. To learn more about the optimal cleaning equipment of the dry ice machine, do not hesitate to contact Specco2 now for a free consultation.