For plastic and composites cleaning effectively, dry ice blasting machine is used as the ultimate equipment for this job. So what are some dry ice blasting machines that are suitable for plastic and composites cleaning, let's together with Specco2 to find out what is the best equipment for cleaning plastic and composites.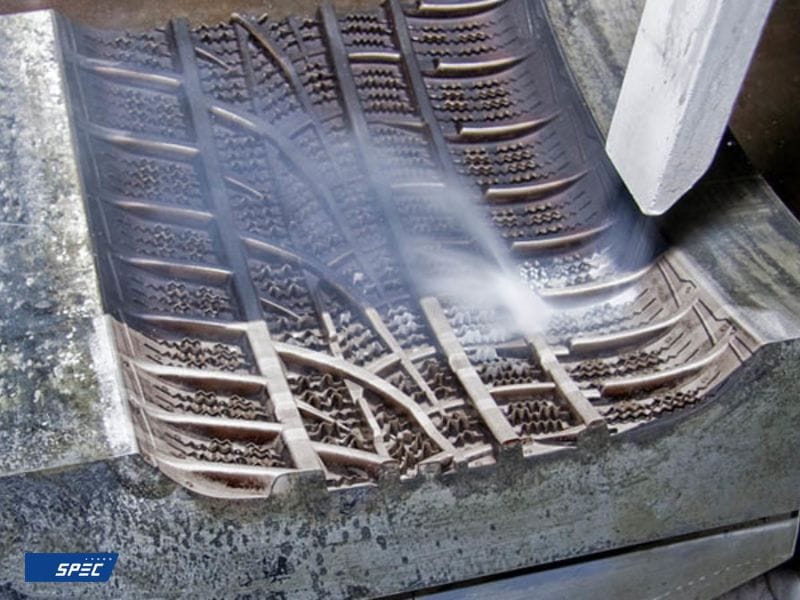 What is dry ice blaster ?
The dry ice blasting machine is an industrial cleaning device, using dry ice as the main raw material to clean the dirt that seems impossible to clean.
Normally, dry ice blasting machine is used to clean the surface of machinery in factories. For companies specializing in the production of plastic and composite materials, dry ice blasting machines are also often used to clean plastic molds and composites.
Besides the industrial cleaning and sanitizing function, the dry ice blasting machine is also used in many industries such as cleaning of construction and architecture. For example, remove old wall paint or removing mold and cleaning wooden surfaces.
Best dry ice blaster for plastic and composites cleaning
Aero2 PCS 60
The Aero2 Series PCS 60 is a high-class dry ice blasting machine and it possesses many outstanding strong points. This is also considered a good CO2 dry ice blaster on the Vietnamese market. The highlight of this machine is that it is designed so that users can fully customize the machine according to their needs.
The Aero2 Series PCS 60 dry ice blaster uses the dry ice particle control system (PCS) – a patented invention by its manufacturer SPECCo2, to adjust the dry ice size (from 0.3mm to 3mm).
With a 7-inch LCD display and digital controls, the Aero2 Series PCS 60 provides visual visibility that allows users to easily view and adjust machine parameters as well as the settings. The machine also features programmable application formulas, allowing the user to set and save cleaning parameters such as contact pressure, dry ice size and blast rate.
Aero 80 FP
Aero Series 80FP is a dry ice blaster of the same generation as the Aero Series 40FP" above with higher blast Pressure. This machine is Widely used in heavy industries for the most stubborn grease stains and cleaning transport vehicles in the mining industry.
Along with other machines of the Aero Series, the Aero Series 80FP also possesses advantages such as using a radial feed system and is compactly designed to help users save energy and resources.
Some of the machine Specifications:
Dry ice capacity: 80 lbs (36.4 kg)
Feed rate: 0-7 lbs/min (0-3.2 kg/min)
Dimensions: 43″ x 20″ x 46″ (109.2 x 52 x 118 cm)
Weight: 389 lbs (176 kg)
Air consumption: 50-165 CFM (1.4-4.7 m³/min) at 80 PSI (5.5 bar)
Blast pressure range: 20-300 PSI (1.4-20.7 bar)

The Aero Series 80FP's advantages is the same as the Aero Series 40FP
SureFlow Performance System allows the operator to run full capacity through 100 feet of pipe without poking, clogging, or cleaning required.
Feeder technology which has acquired Aerodynamic load patent works to reduce wear on pads and rotors, increasing machine life.
Advanced radiating power system providing pulse-free consistent blasting and precise feedrate control.
Pressure scale ranges from gentle cleaning at 20 psi (1.4 bar) to explosive cleaning at 300 psi (20 bar)
Main features of the Aero Series 80FP dry ice blaster:
Advanced SureFlow System
Full range of pressure
High quality pellet dry ice
The dry ice hopper is designed with an inclined design, making it easier for dry ice to be ejected
High-quality designed components
Minimize ice loss
Optimal use of dry ice
Easy maintenance and operation
High quality nozzle
High mobility
Conclusion
Aero2 PCS60 and the Aero Series 80 FP Dry Ice Blaster are rated as the best equipment for plastic and composite mold cleaning you need to have. The benefits of a dry ice machine in cleaning injection molds have been emphasized by Specco2 in previous articles. If there is a need, you can contact Specco2 for 24/7 direct advice.